The Suite - Wedding Band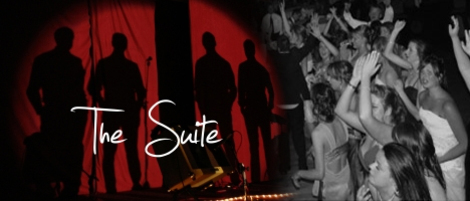 Supplier Details
Facebook: The Suite
The music you choose for your wedding is one of the most important decisions you have to make and The Suite pride themselves in arranging a diverse, professional and energetic set-list.
The Suite are a four or six piece band made up of experienced entertainers who have been performing for the last decade in venues and at festivals around Ireland, the UK and Europe. 
Depending on venue size and/or number of guests there is a Suite option for you.
Acoustic Suite - Perfect for more intimate venues. Less equipment, not less band members.
4 Piece Suite - Guitar, Bass, Lead Guitar, Drums + 3 part harmony Vocals.
6 Piece Suite - The full compliment: Guitar, Bass, Lead Guitar, Drums, 3 part harmony Vocals, Trumpet and Saxophone. 
To see videos, hear the band perform, see a full setlist, and the full range of options that The Suite offer, then please visit our website www.thesuitemusic.com
Testimonials
Hello Tina,
We just wanted to say thanks a million to the guys for their performance at the wedding, they were absolutely fantastic, everyone we talked to on the night or have met since have said they were amazing. Shawn was fantastic with the first dance song we loved it and really apreciated the effort he put in to it.Thank you again,

The lads were fantastic, they made the night. I've been to a lot of weddings but it was the first time I have seen the band not being allowed take a break for sandwiches without playing two more songs.
The guys seemed like they were really enjoying it and they are a 'real' band not just the typical wedding band going through the motions, and the guests reacted to this by filling the dance floor.They were the talk of the day on Sunday and we recommend them to everyone we meet. It was perfect.Thanks again.

To The Suite,Thank you for playing so well at our wedding. Everyone enjoyed it and we got plenty of compliments on our choice of Band.Hope you all have a very Happy Christmas

Dear Tina,As we are now hitting reality with a bang, we wanted to thank you and the band for a great performance on the night of our wedding reception at Glasson. The music was fantastic and really got everyone up on the dancefloor. Lots of people have been complimenting the music ever since!
The first dance was played and sung beautifully. I remember feeling the entire room, feelings and emotions swinging around as I was glided around the dancefloor by my husband. A beautiful moment and memory!And such a versatile repertoire! Well done as it was just the perfect mix of new, old, fast, and slow keeping everyone boogying on the dancefloor.Wishing you all a very happy Christmas and a peaceful and successful 2012.

Hi Tina and Band, we would like to Thank You all so much for the fantastic music at our wedding reception, ye were great at getting the crowd going and were able to cater for both young and old. Ye dealt with so many requests and had the dancefloor hopping all night.It was great that the band could play the first dance song also which made it more special, Thank you all so much for everything.

Hi Tina,
I would like to say a massive Thank you to you and the lads. First of all the Church music was sung brilliantly and everyone commented on how lovely the music in the church was.. When I heard the start of the first time ever I saw your face, I had to take a deep breath and try not to cry as it was just everything I wanted. Than the band performed at the reception, wow they were more than brilliant.. The floor was never empty from start to end, people are still commenting how great the band was and going around recommending them to other couples. Thank you again for making our day even more special. I will be recommending you all non stop.
Thank you

09th September 2011,Athlone Springs

Just a quick note to say thanks a million to The Suite for doing an amazing job for our Wedding. The read the crowd and the occassion perfectly to deliver a set that got everybody up and dancing. An extremely talented bunch of lads who were a pleasure to deal with, as was their excellent manager Tina. We could not recommend them highly enough.

We would like to say a huge thank you to The Suite for adding so much to our wedding day. The band were just brilliant and got everyone out dancing. The lads have fantastic voices and were really good at figuring our what the crowd wanted. They were also able to accommodate lots of requests for songs on the night from Kings of Leon to The Beatles. We found it very easy to deal with the lads and they are complete professionals in both appearance and manner. We would recommend The Suite for any wedding, big or small, as you will be guaranteed to be entertained.

Lads I cant thank you enough for the savage 'choons'! All the guests were raving about what a great band ye are and I have to agree :-) you come highly recommended!March 16th & 17th, Cloghan Castle, Co. Galway

Just wanted to take a moment to say a huge thank you to The Suite. We booked The '3-piece' Suite for our wedding in September and they were absolutely brilliant! It was a pleasure dealing them (and their manager Tina) from start to finish. For our small wedding, the '3-piece' band was perfect – the music was top class, not too loud and perfectly blended to create the perfect atmosphere. I don't think we stopped dancing the whole time they played and everyone (young and old) remarked on what a great band they were.
The Suite played a huge part in making our day so special. We are delighted to have chosen them as our wedding band and would thoroughly recommended them to anyone.
Thanks again,

We had The Suite for our wedding on the 26th June 2010 and have to say we could not have asked for a better band. These guys are great - they had the dancefloor hopping for the whole night and we have had such positive feedback from everyone at the wedding. Everyone wanted to know who they were. We would recommend The suite 100%; they are very talented musicans with great charisma guaranteed to entertain any crowd.