Milehigh Wedding Band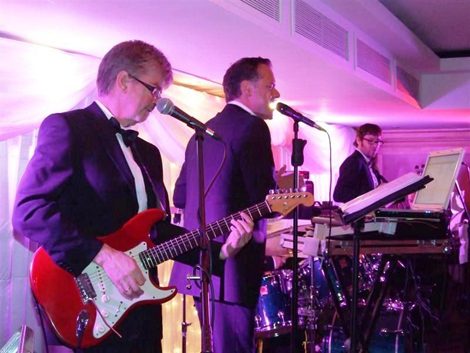 Supplier Details
The Best 6 Piece Band In Ireland
 Milehigh is a 5 or 6 piece band comprises of full-time, professional musicians and we play all styles of music. You can listen to some of our sample songs and watch a music video of the band on our website at www.milehigh.ie. We have a large song repertoire and the band perform a customised set list for every event that the band plays at. The band members usually dress in all in black or black-tie unless requested otherwise by the bridal party. Most of our work is performed as a six-piece band (drums, bass, piano/keyboard, lead guitar/vocals and male/female lead vocalist).

We can provide a complete music and entertainment service for your wedding. The main benefit of choosing our package service is that you'll have top quality entertainment for the entire day your wedding day and everything will run as smooth as a dye. Our full day package includes:
Ceremony: Our vocalist is a trained classical singer and can perform a customised set of modern and classical songs specifically adapted to your ceremony. Derek is a formally trained Tenor/Baritone and performs with the Tullamore Chamber Choir amongst others. Our vocalist is accompanied by our pianist, himself an accomplished musician and performer.
Drinks Reception: Upon arrival we'll play a Jazz and Instrumental Set for your arrival. The volume of the instrumental portion of the entertainment is nice and low so that your guests can mingle and have a chat. We can also organise piano arrivals music for the arrival if you so wish, subject to a resident piano available to our pianist at the venue.
Evening Reception: The band evening entertainment runs to about 2 ˝ hours. From start to finish this is the most enjoyable part of the entertainment for your guests and we keep the floor full from beginning to end. We try not to overload your audience with any one particular type of music so the evening really is a good balance with lots of variety so as not to exclude individual guests.
For DJ we use our font man Derek to ensure maximum quality and a seamless transition. He is a great entertainer and always puts on a great show. The benefits of the dj is that we use the same equipment for both bands & dj, Derek knows what songs the band have done and there is no overlap and when its kept in-house we have maximum flexibility over all aspects of the dj show.
Residents Bar Acoustic Session: If you are interested in keeping the party going in the residents bar after the DJ set we also offer an acoustic sing along to keep your guests entertained into the small hours. What better way than to polish off a fantastic night with an old school sing along and this can be one of the most enjoyable aspects of the whole experience. Two of our musicians will lead, accompany and keep your guests entertained with a two hour acoustic session that will send everyone off to bed in great form and hoarse!
Milehigh is a fully live band. We never us backing tracks or supplement sound in our mix. Live music always creates a better vibe for your celebrations. Your complete satisfaction is of the utmost importance to us. Your First Song is always performed live and the band will cater for any other requests you or your guests may have. We have regular public shows at our residencies in Dublin City Centre, Kildare & Carlow for anyone interested in seeing the band perform live.
Testimonials
Hi Paul and the rest of your band just wanted to thank you so much for playing at our wedding in the Ferrygcarrig Hotel co, wexford on the 29th December 2011. Pj and I had a great night as so did all our gusts ,we would highly recommend Milehigh.thank you for being part of our special day

Hi,
We had Milehigh for our wedding band this past New Years Eve. They were excellent, the floor was never empty, and there was a good mix.Everybody loved them and there were alot of great comments about them later in the night and the next day.What I loved most was that they learned New Years Day before they started to perform, so that we could have it sung when the new year was rung in.It was excellent, I can't recommend them milehigh enough.

To Paul, and all the guys in Milehigh.
Just a quick note to thank you for doing such a good job on our wedding day - 18th March in Kilronan Castle. I spent the whole night on the dancefloor, we had a wonderful time- the band and dj understood what the guests liked and adopted playlist to ensure the floor was full all night! thanks once again, you looked and sounded great! Thanks a million!
Contact Details
Nationwide
Unit 8C, Enterprise House, O'Brien Road,
Carlow
Contact name: Paul Howard
Phone: +353 (0) 59 9142050
Mobile: +353 (0) 87 2833555
[email protected]
www.milehigh.ie

Interact