DMC Photography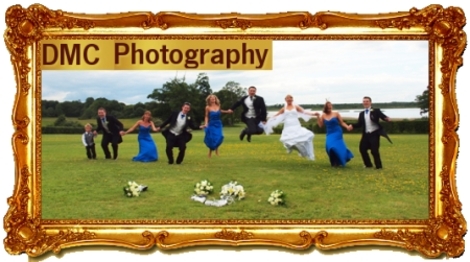 Associations
Supplier Details
Hi my name is David and I am an Award Winning Member of the Society of Wedding and Portrait Photographers. I specialise in Romantic Wedding Photography in a very relaxed un-obtrusive style, I offer Traditional, Contemporary, Reportage, Candid and Casual, whatever the bride and groom desire.
I am based in Co. Meath but I work nationwide and I am currently booked to photograph weddings all over Ireland and also several in the UK over the next two years or so. I am also available to photograph weddings abroad at very reasonable rates.
I am a full time wedding and portrait photographer and I am fully insured with public liability and professional indemnity insurance.
My aim is to Capture the Mood and the Spirit and the Special Atmosphere of Your Wedding Day through the photographs that we create together.
The most important thing to remember is that it is Your Special Day to enjoy with friends and family. I'm there to Create Beautiful Photographs that you will Treasure Forever. I will take as little time or as long as you wish with your photography however I believe that we can create Beautiful Photographs Together IN 30 - 40 MINUTES AT YOUR RECEPTION VENUE.
The easiest way to do this is to meet a couple of times before your wedding so that we can get to know each other and then we can work better together on your Wedding Day.  I don't offer a four or six hour service. On the day of your wedding I am available to you from early morning for as long as you wish.
I have a venue gallery on my website where you can view wedding photographs from a selection of weddings that I worked at over the last year or so featuring approx 20 different venues.
I offer disc packages for 800 euro and wedding album packages from 1350 euro with lots of extras included. You can also find details of the various packages by clicking on this link
I am friendly, relaxed and professional and I specialise in reportage/storybook photography to capture moments such as.....
The craic at the bridal and groom preparations, the final moments as a single man or woman and then the emotions portrayed during your ceremony, the exchanging of rings and promises, the hopes and dreams of a long loving and happy future together,the atmosphere, the look of love, the gathering of family and friends to help with your celebrations, the congratulations, the intimate moments shared between the bride and groom, the casual and candid exchanges between the happy couple and their guests, the fun of the speeches, the tender moments of the first few dances as a newly married couple and all of those special things that may happen during the day that you may miss but an experienced professional photographer will know to look out for and capture.
I currently have a free competition running on my website where one lucky couple will win a 1600 euro wedding album package for the price of a 250 euro booking deposit if you wish to check it out.
For any bookings received up to the end of February 2012, for weddings up to the 31st of December 2014 there will be a bonus of a 20"x16" canvas print, 50 personalised Thank You Cards and a complimentary Trash the Dress photoshoot (valid for 2 years after the wedding date) added to all wedding album packages.

So whether you want only a Disc only package, a Traditional Leather Wedding Album or a Contemporary Storybook Wedding Album check out my Wedding Gallery and the Great Prices and Special Offers on my website www.dmc-photography.eu

If you like what you see and would like to arrange, without any obligation, a meeting to check out my friendly personality or to view sample Wedding Albums feel free to get in touch through this page or through the contact page on my website or by phone on 086-0684415.
Testimonials
Hi David,Just wanted to send you a quick message to say a massive Thank You for capturing our day with such professionalism and feeling. Several of our guests commented on how good you were and how nice you were to have around during the day. We have just received our DVDs and cant wait to sit down over Christmas to look through all 750 odd photos. What we have seen so far though are fantastic.
The best part of the day for us was getting the framed photos back which were signed by each of our guests, brilliant idea and really helps us to capture our guests moods when it is so difficult to get around to see everyone.Once again, thank you so much, we would highly recommend you going forward. Have a lovely Christmas.

Hi David,
We just wanted to say thank you so much for the wonderful disc's we received off you today, with our winter wonderland wedding photo's and DVD of our church ceremony as an added bonus!! You were so quick in getting them all done and we appreciated the call when we came back from honeymoon to say that they were all ready.
The disc's are presented beautifully, and the music you chose to go with the photo show, is so perfect to match our snowy day.
We are absolutely thrilled with the photo's, they are exactly as we had discussed, some formal family shots but mostly casual ones as we asked taken when people weren't even aware you were there and they turned out amazing. Some of them brought tears to my eyes especially the ones with our son.
Nothing was a problem for you to do for us, and dealing with you has been a complete pleasure from the time we met with you to discuss getting you to do our photo's, the call's in the run up to our day, the calls afterwards and today the photos!! You even spent the whole day with us, from managing to get to my Mum's house in the snow, to the amazing pic's on the roof top of Trim Castle in the snow that night. Your attention to detail in the pictures is brilliant, some things I hadn't even noticed on the day with all the excitement and it was wonderful to see them.
We could not recommend you highly enough, and have done so to all our family and friends.
We will be in touch regarding our album, and will be using you for any events or family photo's in future.
Thank you so much for such a fantastic job David.
Any bride who is looking for a photographer need look no further and I would be very happy to speak to any brides who would like any more details, or recommendation.
Thank you and a very Happy Christmas to you and your family.