Matt Ryder Caricature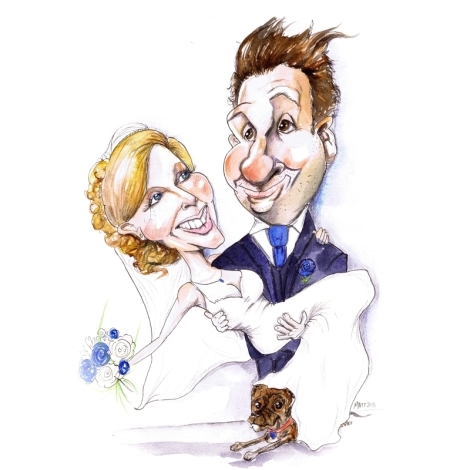 Supplier Details
After Caricaturing around the world from Europe to America to the Middle East, Matt has now permanently settled in Ireland and is performing at weddings up and down the country!
Matt is known for his hilarious caricatures that are mixed with the perfect blend of exaggeration and spot on likenesses, sure to go down a treat with guests of all ages.
A Caricaturist is a great way to make your special day just perfect, and there is no better time to book than now. With discounted rates now in place Matt is sure to be a part of your wedding that will be remembered by your guests for years to come.
Matt can also offer your wedding stationary and sign in board as part of a great price package.
All paper is pre-printed with your names, date and venue for your special day, and Matt will work closely with the Bride and Groom to ensure the wedding entertainment goes off without a hitch.
Testimonials
Hi Matt, Claire and Brian here, just want to say thank you for doing a great job on our invitations!
Matt designed and printed the invitations for our wedding. From initial contact when I was looking for a quote right up to the collection of the invitations, Matt was very professional and easy to deal with. Within an hour of asking Matt for a quote, I had received a response and throughout the process of the caricature design and layout of the invitations, Matt's response was always prompt. He was open to any suggestions during the process and when we wanted subtle changes made to the caricature, it was not a problem.Thanks for all your hard work Matt!

Hi Matt! Vicky and Carl here. Just wanted to say a BIG THANKYOU!! :) for all your hard work at our wedding on the 29 Dec 2010! It was a wonderful day and you were really great with all the guests. Everyone was delighted with their portraits and it was a great addition to the wedding. Everyone was talking about it and showing their pictures to one another. It was also lovely that people had something to take home to remember the day. Thanks again, and also for our cool picture too!! :)

Had Matt at my wedding on New Years Eve 2010 ,he was absolutely brilliant!!
Every one was commenting on what a great idea it was and a brilliant way to get guests mingling and talking also bringing home a memorable picture.Matt was very professional and outgoing and charges reasonable rates.Hope to meet you again at future weddings Matt .
Thanks a mill

Premier Group recently used Matt Ryder for our company social event. It was on a boat and Matt was brilliant. He did over 30 people in two hours and each one of the caricatures where excellent he even did them on paper with our company logo. Our theme was nautical and he put sailor hats on a number of them. He was always patient with people and really fitted in on the night. I would have not hesitation in recommending him and we hope to use Matt again.