Brenda McGuire Photography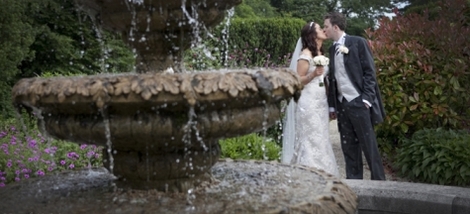 Associations
Supplier Details
Special Offer: €100 discount on all Storybook album packages for couples that book my services before January 31st 2012.
Brenda's B.A. Honours Degree in Photographic Studies has given her a broad understanding of all aspects of photography both commercially and artistically. Her creative capabilities have brought her to exhibit nationally and internationally. She has taught photography courses in colleges and studios in Dublin including Dublin Institute of Technology and is a member of SWPP (Society of Wedding and Portrait Photographers). Her combination of professionalism and personality always guarantee a enjoyable experience on the big day. Her style is fun and relaxed.
"It is lovely to arrive at the Brides home on the morning of the Wedding and blend in immediately. Being female really helps when your in the thick of it with the ladies. They're your peers so they can have fun and don't feel as self conscious when getting dolled up!
Brenda offers a choice of the contemporary digital Wedding album and the more traditional handcrafted album. All albums are sourced in Ireland! Other services offered include photo restoration, portraits on location and 'Rock the Frock' (also known as Trash the Dress) sessions. 'Rock the Frock' is a post wedding shoot in which the bride bids farewell to her wedding dress. It is a trend of creative photography that was originally started in 2001 by Las Vegas wedding photographer John Michael Cooper and is now spreading across the world. It is seen as an alternative to storing the dress away, never to be seen again.
Testimonials
"A Big Thank you to Brenda who was our photographer on our big day! we have lots of beautiful photographs to cherish the memories of our wedding day....she did an amazing job! "

Just wanted to drop you a line to say thank you so much for the
excellent photos. We had high expectations and you didn't disappoint.
Christian now understands why I took so long to choose a photographer,
it really does make all the difference. I knew as soon as I spoke to you
that you would be perfect and on the day you were like a friend, we had
a good laugh and you really made us feel at ease and this comes across
in the photos. You really caught the relaxed and fun feel and vibe to
our wedding which is exactly what we wanted.

Within moments of meeting with Brenda we knew she'd be perfect as our Wedding Photographer. Brenda seemed to understand from the outset exactly what we were looking for to capture our big day. Her bubbly personality and professionalism made the entire experience most enjoyable. From the Engagement Shoot to the Wedding Day to the DVD of Photos and then eventually to the Wedding Album every step was an absolute pleasure and the end result of images are truly fantastic – they'll be a treasured keepsake. Brenda made us feel very relaxed when all the photos were being taken and she managed to get the "best side" of us and all of our guests time and time again as she clicked and clicked and clicked! We wish Brenda every success and without hesitation would recommend her
110%!

Myself & my new husband :o) would like to say a huge thank you to Brenda for producing some amazing shots of our special day on 13th May 2011 @ Ballymagarvey Village in Co Meath! We were both delighted with our wedding photographs and we didn't have to wait long to see her fantastic work as the album (on disc) was ready within weeks! It was a pleasure to have Brenda capture what was an amazing day had by us and all our guests….…we will be sure to recommend you to any couples we know who are planning a wedding in future as they would not be disappointed! In fact a couple I know have already booked Brenda for their future wedding and have had great things to say about Brenda already!! Thanks again –

We hired Brenda for our wedding in October this year. From the moment we met her we knew Brenda was the right photographer for us as we wanted someone with a bright and friendly personality. We sat down with her on that first day to discuss what kind of photographs we wanted, and now we can say that she has delivered exactly what we asked for and more. The photographs she took for our wedding are way beyond what we had hoped for. Brenda made us, and everybody else, feel extremely comfortable in front of the camera, and along with her assistant, they both made sure they had a wide coverage of everything that happened during the day. From group shots, to spontaneous shots of individuals and moments, Brenda impressed us with her talent to spot photo opportunities, and to take these photos with her own stylish flair. We would highly recommend Brenda to anyone who is looking for a friendly, personable, professional, and extremely talented photographer. We could not have asked for a better service and end result. We are absolutely thrilled with our wedding photos.