G & J Display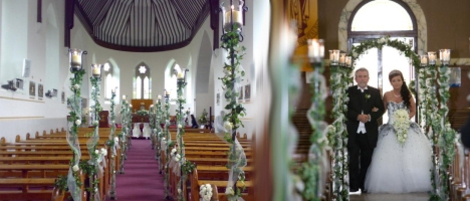 Supplier Details
All our packages include delivery of all items on the morning of the wedding to the church set up and then removal of all items after all photos are taken.  We also specialise in civil ceremonies and do house decor too.
    
    If you are interested it is advisable to book the date asap though as the dates fill up very quickly.

    As always any queries please don't hesitate to get in contact with us via email or call with any queries no matter how big or small the query.
Many thanks for your interest with G & J Display, we look forward to hearing from you in the future.
We are committed to working with our clients to give them guaranteed satisfaction, and a quality and reliable service for their special day. With our valuable experience and commitment you won't go wrong. Why buy when you can hire beautiful wedding decor - we hire wedding arches, Aisle Candelabras, Trees, Flower arrangements, pew ends /pew flowers ect we use top quality silk flowers but also do fresh flower bouquets check out www.gjdisplay.com plenty of photos.
---
Testimonials
Joanne and Jonathan (mourne rd church Drimnagh, July 3rd 2010)
Hi Glen and Joyce, just a quick email to say thank you so much for making the church look so well on the day of our wedding we were thrilled with it and all of our guests spoke highly of it we will be definitely recommending you to friends we've already given your contact details to friends, the church looked amazing thanks again.

Henry & Deirdre Shefflin - 30th March 2007-Kilkenny- CAPTIAN OF KILKENNY TEAM
Personal Comment: From the day of my engagement I had a vision in my own head on what way I wanted the Church to look like on my wedding day. I wanted something to catch the guests eye the second they went through the door. I got exactly that with my beautiful Wedding arch, which G & J Display provided for me, along with matching flowers along the pews. As I was waiting to go up the aisle, the doors opened and it was the first thing I saw as I started to walk, it looked so angelic and pure and got to me on an emotional basis. I felt like a Princess. When the Ceremony ended the majority of guests wanted pictures of both Henry and myself under the Arch, it really MADE the church for me and I will always be thankful that it was better than what I had imagined. Most comments following our Wedding were about the Arch, as much as I wanted it all for myself I had to give the contact details of G & J Display to them. Thanks for the memories. Love Henry and Dee.

Imogen & Karl - 04.07.09 - Bohenabreena Co Dublin
Personal Comment:All our guests were blown away by the decor in the church, it looked absolutely amazing even better that we had imagined.
Nobody would believe when we told them later that they were silk flowers, the church had never looked better it took our breath away, many, many thanks for your professional service.

Liz & Robin - 27th July 2008-Unitarian Church St. Stephens Green
I hired your services on Sunday 27th July at the Unitarian church, you might remember it was one of the very rare sunny days. Anyway I just wanted to thank you for the job you done. Everyone commented on how well the church looked and I was plesently surprised myself. I will be recommending you to anyone I know getting married. Thanks for your contribution to my wonderful day. The church looked spectacular on the day. Lots of our guests complimented us on it. We felt that G & J Display really added to our day with their wonderful decoration of the church. It was well worth the money to know that everything would be looked after for us. It was a lovely surprise to turn up to the church and see it looking so wonderful. It looked classic and timeless.