Gavin McCaffrey Church Singer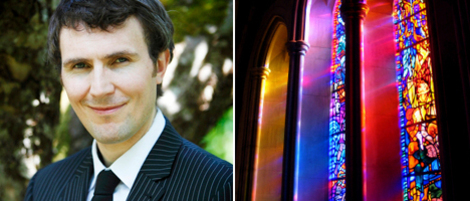 Supplier Details
Specialising in church music, Gavin has been performing at wedding ceremonies all over Ireland for the past ten years and would be delighted to help you plan the music for your big day.
Gavin studied at the College of Music and has performed at the National Concert Hall, Croke Park and RTE's The Late Late Show. As a pianist and singer he has played in all of Ireland's top venues including Whelans, the Village, the Olympia, the Gaiety, the Abbey Theatre and the Helix with many leading bands and ensembles, including Moonlight and the RTE Concert Orchestra.
With such a vast repertoire in contemporary and classical pieces, Gavin can help you and your partner choose the perfect songs for your special day.
Music
Also accompanies Jessica Molloy
You can listen to a sample of Gavin's music from his website.
Below are some sample set lists.
Processional
Bridal March
Canon in D
She - Elvis Costello
She moved through the Fair

Lighting of Single Candles
Kissing you - instrumental
Braveheart theme tune
Instrumental music of your choice

Responsorial Psalm
Eagles wings
Here I am lord
Be not afraid
Wherever you go - song of Ruth
The Lord is my Shepard

Offetory
Amazing Grace
Ag criost an siol
Down in the river to pray

Sign of Peace
Make me a channel of your Peace
Let it Be
Bridge over troubled Water

Communion
The voyage
Heaven
All I want is you
You raise me up
Something inside so strong
Fields of Gold

Signing of the Register
Your song
The Rose
Better - Tom Baxter
Hallelujah
Somewhere over the Rainbow

Recessional
Bridal march
Everlasting love
All you need is love
How sweet it is to be loved by you
For once in my life
Testimonials
Gavin sang for our wedding ceremony on the 23rd of March and we couldn't have made a better choice. From the initial enquiry right up to the big day Gavin was really helpful and professional. On the day itself both myself and my groom really enjoyed the music plus a lot of the guests commented on how good it was and that it really added to the ceremony. If any of my friends or family ask for recommendations on church music in the future I'll definitely give them Gavin's details.

Gavin sang at our wedding in September. Gavin was wonderful to deal with from the first time I phoned with an enquiry. He was so interested and always kept in touch and was so helpful every step of the way. With so much to worry about and organise I knew that the church music was totally under control I had every confidence in Gavin as he is so professional. I recieved so many positive comments from my friends and family I couldn't have been happier. I would recommend Gavin without hesitation to anyone looking for a church/reception singer.

Gavin sang for our wedding ceremony and drinks reception in October 2011 i Abbeyleix and Castle Durrow. He was fabulous to deal with from the very first email contact-he even offered to help with the mass booklet. He rang us the week of the wedding to confirm everything as he had promised he would. The ceremony music was beautiful and so many of the guests commented on the music afterwards. We were blessed with a freakish summer day in October and for the drinks reception Gavin brought his instruments outside and played until the guests were called for dinner-for me this was the highlight of the day- our guests had to be called to dinner numerous times because they were enjoying it so much!
Gavin we can't thank you enough for making the day so special for us and for being so great to deal with from start to finish. Thank you!

We are so happy we chose Gavin to sing and play the piano at our civil ceremony on 09th September 2011. Our guests mentioned how lovely the music and singing was on the day. Gavin, your singing voice is perfect for a wedding ceremony as it is not overpowering, you are natural & easy to listen to. We had a couple of modern song choices and you sang them perfectly. Thanks for making our marriage ceremony so special.

Gavin sang at our wedding recently and it really made the ceremony. He was so helpful in the lead up to the big day and was just superb on the day. We've had a lot of comments from friends and relatives about how good he was. I'd recommend him to anyone getting married. Thanks Gavin!!

Booked gavin for the church of my wedding. He has a lovely voice and performed the songs i gave him excellently. Everyone was asking who he was after the ceremony and some people said they actually cried listening to him

We chose Gavin to sing at our Wedding Ceremony in Co Mayo in July. We are so glad that we found him on weddingsonline. Gavin had no problem singing any of the songs we picked, some of which were less well known. Gavin is a true professional, amazing singer and musician. All of our guests told us it was the nicest and most relaxed wedding that they were ever at and this was down to Gavin. You would be truly blessed to have him sing at your wedding.

Gavin sang at our wedding in the Radisson Hotel June 3rd. We still have family and friends telling us how amazing he was and also people commented that it was like a CD playing in the background it was so perfect. He is a fantastic singer, musician and was so professional. Whatever songs we suggested to Gavin he was willing to sing for us. We would highly recommend Gavin for your special day.

Gavin was fantastic at putting me at ease when discussing our wedding last year. He made great suggestions and was very accommodating for the requests I had. His music was the first thing I heard as I walked up the aisle with my Mum & Dad, it really set the emotion for the ceremony. Thank you Gavin.

Gavin played both piano and guitar at our wedding in Feb this year. The ceremony was beautiful and Gavin's music was very special to both of us. He did a fantastic job and I wouldn't hesitate to recommend him to anyone.

Gavin preformed at or wedding in Bellinter House in Sept. 2009. He was an absolute professional and fantastic help to us both on and long before our wedding day. Gavin and his music was a huge part of our very memorable day. We can say without doubt that if you have gavin on board for any part of your wedding music, you wont be disapointed.

Gavin you made our day really special last September. We can't thank you enough.

Gavin sang for our wedding at the registry office in Dublin and it was wonderful. We left the choice of music up to him and it was perfect- had us all in tears! With him and his guitar it was a flexible set-up in the small space. We can't recommend him highly enough,

We had Gavin sing at our church service in September and he was fantastic. Everyone at our wedding commented on how impressed they were with his voice and music. I'd highly recommend him to anyone looking for someone to sing and play at their wedding.