Sinead Conway Vocalist for Weddings & Church Services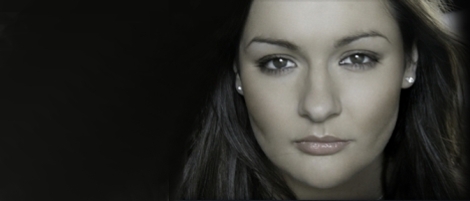 Supplier Details
Sinead Conway is one of Ireland's best known wedding singers and has sang at numerous wedding ceremonies including those of Westlife star Shane Filan and Irish businessman Sean Quinn's daughter Chiara. Being a highly competent wedding music planner, Sinead has taken pride in helping countless couples plan and arrange music that is unique and personal to enhance their special day. Whether a church or civil service, a blessing, drinks reception or indeed the main evening band, Sinead has over 8 years of professional experience in each of these settings.
Your choice of music for your wedding ceremony is highly important in setting the mood of the day. Whether you want traditional hymns, classical arias or contemporary songs, Sinead is extremely versatile and has a list of repertoire to suit a range of different styles. With each couple a consultation takes place where you can select a program that will personalise and enhance your special day. Sinead can source top quality musicians to provide accompaniment to her singing. While classically trained, she can also tailor her voice to suit any style whether gospel, folk, soul, traditional Irish, pop, jazz etc. Click here to listen to sample music.
Two years ago Sinead joined forces with Sligo's quirkiest Jazz trio "The Odd Couple" consisting of Eddie Lee on Bass, Kieran Quinn on Piano and Ken McDonald on drums. "The Odd Couple" are currently taking bookings for 2010/ 11 weddings and can provide a package for your wedding day to suit your budget including church music, drinks reception and full wedding band.
Sinead is also the lead vocalist with 'Redshoes', a 6 piece funky 80's dance style wedding band based in Dublin. You can check out the website at www.redshoes.ie for a taste of what this superb band can deliver to keep your wedding party on the dance floor all night long!
Testimonials
I cannot recommend Sinead highly enough, she sang at our wedding in March, a lot of guests commented on how beautiful her voice was & how special it made the day. we were absolutely delighted with both her & kieran. From the moment we went to hear her at a wedding we both new she was special, we had goosebumps straight away. dont think twice, book her you wont regret it.

Sinéad, One of my friends is a music professor,he said he never heard anyone like you,his description was much more detailed of course!and everyone had great praise for you besides. Well done and thankyou.

Hi Sinead I am just about to head away on honeymoon but I could not go without saying a massive THANK YOU to you first. Your voice just blew me away on Saturday, I wanted to stand up and applaud after every single song. You were sensational. Every single guest has commented on how wonderful you were too. Also Kieran was wonderful on the piano and really set the atmosphere back in Harvey's Point. Lots of our engaged friends have asked for your contact details. Thanks also for all your help and advice with the mass and hymns.
Kind Regards

Sinead, I cannot thank you enough for the amazing job you did singing at my wedding in Glencolmcille on June 4th, you made the day truly special and i still shed a tear when i hear you verion of How Great Thou Art on video. I have had numerous requests for a CD of you singing, do you have any songs on CD (will pay of course)
I have also give your number to so many people. Thank you again, you made our day.

Hi Sinead, Hope you're well. I just wanted to send you a quick mail to say thank you for your superb performances at our wedding. The majority of our guests were asking who you were after the church and couldn't get over how amazing the music was.........they were blown away. Both you and Kieran did an amazing job and we're so grateful. Also please pass on our thanks to the band and also Eddie the DJ, kept the party going all night. Everyone had a ball. I hope you'll get some follow on business from our wedding and I'll have no hesitation passing on your number to friends and family. I've posted your link to my Facebook page as so many people wanted your details already. Hope to hear you singing again soon,
Best wishes,

Sinead Conway sang at our wedding on the 2nd of October this year and there was not a dry eye in the church. She has the most beautiful voice I've ever heard and is just perfect if you are looking for a wedding singer who will make the wedding service extra special and personal to you.
There were a hugh number of guests that commented on how fantastic Sinead was.
I searched high and low to find someone who would make my wedding really special and found this in Sinad Conway. I would highly recommend booking her for your big day.