JewelleryRepair.ie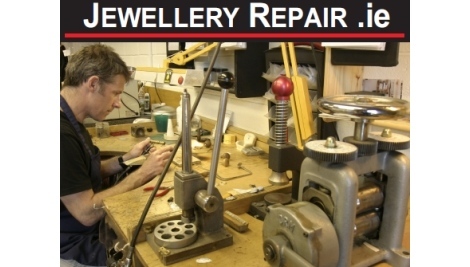 Supplier Details
Hours of Opening - Monday to Friday 9:30 am to 5:30 pm
Saturday and Evenings by appointment
Jewellery Cleaning & Repairs
Our design and repair workshop is conveniently located in The Design Tower in the Grand Canal Quay area of Dublin 2
Working from our fully equipped workshop we provide a first class, fast and efficient jewellery cleaning, repair, remodelling and design service.
We can give an immediate competitive estimate for all jewellery repairs, and guarantee the highest standard of craftsmanship, and where possible we do on the spot repairs.
Pre Wedding Day Jewellery Services

Clean & Polish Engagement Ring

White Gold Plate - Rhodium Plate
Check and tightening of all Stone settings
"Get your Engagement ring to look like new for your big day"

BESPOKE JEWELLERY MADE TO ORDER
We also make bespoke Engagement Rings, Wedding Rings, and Eternity Rings to our customers specifications.
We specialise in making fitted Wedding Bands for all types of engagement rings.
For the groom we make a range of personalised engraved Family Crest Heraldic Cufflinks and Wax Seal Rings
Testimonials
Dear Everyone
I just had my engagement ring made by Tony at JewelleryRepair.ie and I am soo Happy!! It is a 2.5 carat cushion set in a vintage rose gold setting. My finance drew what I wanted and Tony made it exactly how I wanted it (he was really nice ) it was soo worth the wait. I thought I would never find the 'one' and now I have.
I dont know how to attach a photo but as soon as i figure it out, i will do it!!
Girls, go to Tony! this is soo exciting and now on to the wedding dress and my wedding rings - yay!!!
Contact Details
Celt Clan Jewellery Ltd, Unit 56, 5th Floor,
The Design Tower, (Grand Canal Quay Entrance) TCD. Enterprise Centre, Pearse Street
Dublin
Dublin 2
Contact name: Tony
Phone: 6779494 / 6705703
[email protected]
www.JewelleryRepair.ie

Interact