Christopher Murphy Jewellers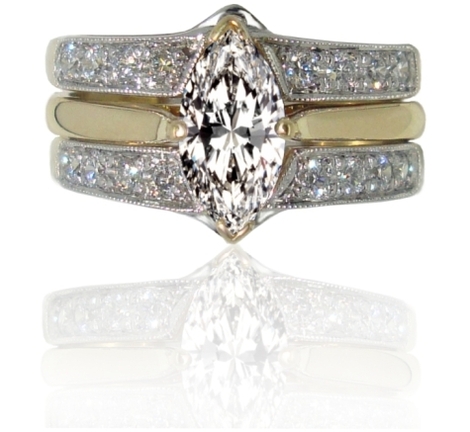 Supplier Details
Here at Christopher Murphy Jewellers we create wedding rings to meet your dreams and match your budget.

We specialise in handmade diamond set ladies wedding rings made to fit perfectly around your engagement ring .

In our instore workshop, our goldsmith Christopher designs and hand makes your perfect wedding ring while incorporating your ideas and budget.
And as we only use high quality precious metals and conflict-free diamonds that conform to all world wide directives, you know your ring is ethically sourced and Irish made.

During your free consultation, Christopher will talk you through your options and explain and show you what ring would best accompany yourengagement ring.

With our extensive range of rings,designs and settings, Christophers 20 years of knowledge and experience in the jewellery industry, and our streamline manufacturing processes, we are positive you will find your perfect ring at the perfect price.

We also have a wide selection of handmade compression formed matching gents and ladies wedding rings in many different styles and finishes.Compression formed rings are much stronger and less susceptible to scratches and dints and last a lifetime.
- Rings For Life -

Be Individual: Create your ring engraved with your names in Ogham lettering (used 2000 years ago in Ireland), giving your ring a personalised and distinctive look.

You will find a large selection of hand-made wedding and engagement rings on our website www.cmjewellers.com

You can also view our facebook page for more information and ideas..
http://www.facebook.com/pages/Santry-Ireland/Christopher-Murphy-Jewellers/349923426538

Contact us today to get the wedding ring of your dreams.
Tel: 01 8426197
Email: [email protected]

When you purchase wedding rings from us, we also include...
Free professional consultation with our goldsmith
Free sizing of your engagement ring, if required
Free valuation certificate with all wedding rings
Free rhodium plating of engagement ring
Free engraving on wedding rings
Free polishing
Testimonials
Christopher,Thank you sooooo much for my rings. You did a fantastic job on re-modelling part of my engagement ring. Its stunning so original and i couldnt be happier with it!!!! Mark and my wedding bands are beautiful and we cant wait to wear them now.. Thanks for your prompt and professional service and I will recommend you to all my friends. :)

I got a recommendation from a friend about Christopher Murphy. My boyfriend made an app and i went to pick my ring yesterday and had a great experience!!! From the moment we went into the shop i felt important and anything i wanted was not a problem. Firstly he asked what type of ring i was looking for and then brough in a few different rings for me to try, as i tried each ring he explained the 4 C's. He was prepared to design and make the ring i wanted to suit our budget but then i found the ring of my dreams!!!! Of course it was way over our budget as it was a good diamond but he was willing to negotiate and gave us a really good deal so we decided to go for it. He didnt put us under pressure or try to give us a sales pitch about the ring but gave us the facts we needed to know and let us make our own decision which we really liked. He also showed us his workshop and how he makes the rings. I can say i really enjoyed my experience there and did not feel rushed as he spent over an hour with us. I would certaintly recommend Christopher Murphy to anyone and we will be going back to get our wedding bands.

A friend recommended Christopher Murphy to me and I can't thank her enough.
I went to Christopher thinking I'd need a specially made wedding ring to fit around the setting of my engagement ring but instead Christopher adapted my engagement ring to fit a standard wedding band, giving me all the choice of wedding bands, perfect. Not only that but he had it sirted for me the next day! A brilliant and friendly service and I'd recommend to anyone!

Christopher made my wedding ring, and I cant say enough about him. As my engagement ring was an unusual shape he designed my wedding ring and its better than I expected. He took the time to sit down and ask what I was looking for, and gave me his thoughts on what I could get. A lot of his stuff are one offs, and you wont see anything else like it. I def recommend him to anyone!

I can't recommend Chris Murphy Jewellers enough. We first heard about him at our pre marriage course from another couple, it was the best recommendation we got! We went originally to get our wedding rings but the range was so beautiful and unique that I got an engagement ring and Chris made the ring my husband used to propose into a diamond pendant necklace. I've also gotten an eternity ring there. Unfortunately I dropped the eternity ring and lost two diamonds and due to the way I damaged the ring the remaining diamonds were smashed as Chris tried to repair the ring I was so upset, but Chris created a brand new ring for me at his own expense and I'm absolutely thrilled!! You really get great personal service and high quality craftsmanship. I would recommend Chris to everyone. Some of my friends have now purchased rings from Chris and have been delighted with their rings. It is definitely worth a look!

Chritopher Murphy made my engagement ring especially for me and it exceeded my expectations