Global Cake Toppers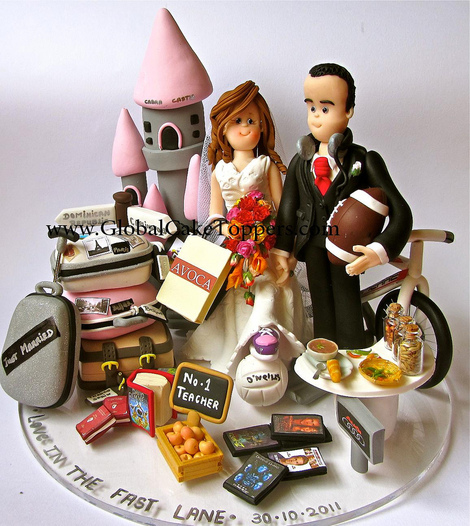 Supplier Details
If you're looking for a beautiful, unique, personalised handmade wedding cake toppers and want them to be a memorable conversation piece at your wedding reception, Global Cake Toppers has you covered!
Global Cake Toppers expertise in making personalised theme based custom made bride and groom toppers and now one of the most popular cake topper makers not only in Ireland and UK but all around the world. Our carefully designed cake toppers are from one of the following themes.
Sports and team Cake Toppers
Cars, Bikes, Boats, Aircrafts Cake Toppers
Animal, pet, character, Super Heroes and cartoon related cake toppers
Hobby, occupation, and general interest related Cake toppers
Anniversary, Baby Christening, and Birthday Cake toppers
Civil Partnership Cake Toppers
Ethnic Cake Toppers....and a lot more...
Global Cake Toppers helps you add a few elements to your cake topper that you hold dear to your heart such as humour, hobbies, interests, profession or anything that helps define you or your spouse. Show your favourite sports or inanimate objects added to the sculpture, like a golf bag, a certain pair of high heeled shoes or a race car.
Visit www.GlobalCakeToppers.com and you will find more than 200 unique design clay cake toppers specially handcrafted according to our delightful customer specifications and expectations. With unmatched quality and unbeaten price (and worth to mention free shipping...), Global Cake Toppers have reached new popularity heights in just one year.
So if you are looking for Premium quality Cake Toppers but not so at premium prices that includes free packaging and shipping worldwide go nowhere else but www.GlobalCakeToppers.com.
Our social media presence -
Visit our Youtube Channel here - http://www.youtube.com/user/GlobalCakeToppers
Like us on Facebook - http://www.facebook.com/pages/Global-Cake-Toppers/164597143616027
Follow us on Twitter for latest updates and offers - http://twitter.com/#!/GCTCaketoppers