Chemistry Photography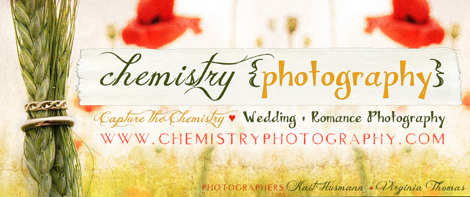 Supplier Details
Fairytale vision with an unobtrusive photojournalistic approach.
Hello! We are Kait Husmann and Virginia Thomas, and we are not just photographers - we are storytellers. We have both had the good fortune of experiencing so much love in our own lives - rich life experiences that have given us the heart, eyes and open minds to capture love where ever we see it. We document your love, tell your story, and capture your chemistry.
We are positive spirits who connect with our clients. We listen closely, use our intuition, and strive to create an experience tailored just for you. On the day, we're fun, relaxed and professional. Our delivery is creative, tasteful and memorable. Our styles combine a photojournalistic approach with fairytale vision and fine art discipline to ensure that your photographs are diversely creative works of art that you will love to share.
We're based in beautiful West Cork in the southwest of Ireland, but we travel worldwide capturing the magic of many unique, international weddings. We love offbeat couples, passionate souls, goofy sweethearts, and inspirational stories. We are ever romantics - cheesy as it is, the truth is we love our jobs because we love people in love.
We hope you take the time to visit our website and explore our work, our storytelling, our passion. We'd love to hear from you :-)
Warm wishes,
Kait + Gin xx
Testimonials
Having Virginia as a photographer at our wedding was one of the best thing we could have hoped for. Virginia was very professional from the day we met and always very keen to discover what type of photos we wanted to have on our Big Day. The pictures and the slideshow she has created are amazing and reflect not only our personality but also the great spirit present on that day. When we received the pictures, my husband and I have re-experienced that great day and also discovered special moments that happened between our guests we were not even aware of. Her enthusiasm and passion about photography have been perceived by every single guest and everyone is still talking about the most amazing wedding pictures they have ever come across. THANK YOU Virginia, you have made our day very special!

I have been blown away with the standard, creativeness, friendliness of service, that Kait and Virginia provided us. We (and everyone who has seen our pictures and video) are so impressed how they captured the emotions of the day in picture. They made it immensely fun and enjoyable for all involved which was a complete contrast compared to photographers we've seen at weddings previously. We highly recommend them.

Lost for words... Amazing!!!!! Everything and more of what we were expecting. The photos capture every moment of our special day and the album is so unique! We're just loving our vintage vinyl!!

Kait was my best find for our wedding day. Her work is incredible and so creative. My friends and family have all made similar comments after seeing them. She's fun to be around and easy company especially when you're a bride on the edge!!! Can't recommend her enough.

"Kait is a very talented and creative photographer. We could not make a better choice for our wedding. She captured all the emotions of this very special day and we thank her a thousand time for that!"

"I highly recommend Kait Husmann's expertise if you are seeking artistic, memorable and heart-warming images.  Personally, for my wedding she produced classy photos with an aura ranging from classic romantic films to comical scenes. She has the prowess to capture the most memorable moments, as everyone felt completely at ease in her company; her presence never hindered the atmosphere. Kait is an exceptionally accommodating and amiable person; it was an immense pleasure working with her."

"I was relieved to find Kait Husmann for my wedding. She was full of fun, creative ideas.
Her presence was ever joyful and never intrusive. Kait gets it. Any bride would be lucky to have her there. And the pictures are PRICELESS."

"Kait, you have a most amazing talent. Your photos moved me to tears. You have a wonderful eye, and must have just as wonderful a heart to capture that well, something as evanescent as love. Beautiful 'work', or rather art."