Make up by Claire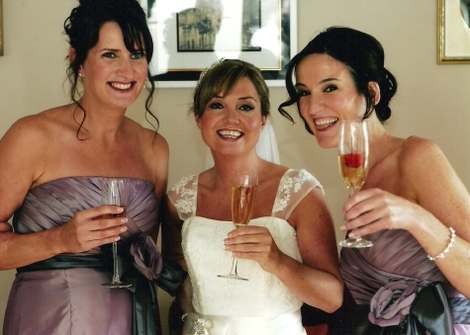 Supplier Details
Having completed her training with LA Makeup Academy in Dublin, Claire decided to focus on makeup for photography and bridal/wedding makeup in particular.
"Every bride has an idea of what she would like to look like on her wedding day - be it ultra glamorous or subtly radiant. The most essential step for me is taking the time to work with each bride to recreate the individual look she desires. During the pre wedding consultation I provide a trial of the full bridal make up as it will look on the wedding day with maximum input from the bride at every step"
"My main aim as a makeup artist is to help every bride to look beautiful on her special day with make up that will last for every moment of the occasion"
Claire Noonan
While she is based between Dublin and Tipperary, Claire is willing to travel nationwide for pre wedding consultations and wedding day makeup. Claire will travel to your home or required destination on the morning of the wedding to apply makeup for you and your bridal party.
Claire likes to work with products from a variety of suppliers but works mainly with Armani, Bobbi Brown and MAC makeup.
Testimonials
I just want to say a huge THANK YOU to Claire - she did the makeup for my wedding in July 11 and I must say she was such a fantastic person to have in the house the morning of the wedding - nothing was too much! my mam was so nervous and she spent so much time with her making her feel beautiful. I loved my makeup, it was exactly what I wanted. She made us all look and feel fantastic and got my wedding day off to a fansastic start! Thank You Claire

Claire did mine, the two bridesmaids and Mam's make up for our wedding in March. She did a fantastic job and the make up was flawless and lasted all night! She is a pleasure to have with you on the day, easy going, listens to everything, never in a rush to get the job done and her attention to detail is excellent. Highly recommended!! Thank you Claire - all the best. Mary.

I had Claire do our wedding make up in April. She was brilliant! Her patience is great and she made us all feel great on the day. She uses great products and is very reasonably priced. Now I use Claire for any special occasions that I have coming up.
Ps she even filled the dishwasher the morning of the wedding, she's a gem!

I recently got my make up trial done with Claire last week. 3 of the 4 bridesmaids also had their make up for a night out on the town. We are already going to be booking Claire again for another night out before the wedding we loved the make up so much! She was patient with all of us and my niece and nephew who both were running about at the time. The make up looked amazing and stayed on till next morning after a hard night out on the town. I cannot wait for my wedding in September cause now I can relax and rest assure that the make will look amazing and will stay on including the eye lashes which I had to take off the next day. Highly recommend Claire !!

I recently had my make up trial with Claire I am so pleased with the results. Claire is very professional and gives lots of time to discuss and see what options would suit best. I would highly recommend Claire for anyone who is looking for that extra attention to detail and a helping hand on advice as to keeping your skin in top condition for the big day ahead. At the end of the trial Claire does up a chart detailing every product that has been used so that nothing will be forgotten on the day itself. Thanks Claire, I can now look forward to my wedding day knowing my make up will be perfect!

Claire did the make up for my wedding in November 2010 and she was fantastic. I really loved my make up on my wedding day and I felt so comfortable. After hours of dancing and cheek kissing it was still perfect!! She worked with my bridesmaids and my Mum to give them exctly what they wanted also. She was so professional and helpful from the moment I emailed her for a quote, I would highly recommend her to any bride!

Claire did the make-up for my wedding on 7th August. My wedding party included my five bridesmaids & my mother and myself!! Claire did an absolutly fantastic job for us all and all the girls were delighted with the results.I wanted something subtle but still wanted a glamorous look and that is what I exactly got! Claire was extremly professional, calm and above all patient! She had many different requests to deal with that morning from all the girls but was able to provide an individual look for them all to suit them. She even had time to put some blusher on my 10yr old niece!! I would have no hesitancy in recommending Claire for someones wedding or indeed any occasion.

I got married on the 28th Aug this year, and Claire was my make-up artist. I was extremely happy with the result, I wanted something that was natural looking, with a touch of glamour! I got exactly what I was looking for. The make up stayed on all day and looked as fresh at 12 midnight as it did when it first was applied. The trial was particularly good as Claire spends time with you working out what shades suit etc, while keeping you in the driving seat. She photographs you when she's finished so you can see the end result in print. This is very useful as changes can be made there and then if neccessary. I would recommend Claire wholeheartedly, its a very special day which requires very special attention - this Claire delivers 100%.

I was part of a bridal party and Claire was the makeup artist. I was very impressed with the results and she gave me loads of tips on applying my own makeup. she was very calm and relaxed the morning of the wedding which created a lovely atmosphere. I'd have no problem recommending her for any wedding or occasion. I wish her the best of luck.

Claire did the make up for my wedding in June 10 and she did an amazing job, I had complete confidence in her on the morning of the wedding because she put so much into perfecting the look during my trial, taking photos and making sure I was happy with everything. My 3 bridesmaids and I loved our make up on the day and so many people commented on how natural and beautiful it was. I would highly recommend Claire to any bride who wants perfection on her wedding day!