The Courtyard for Brides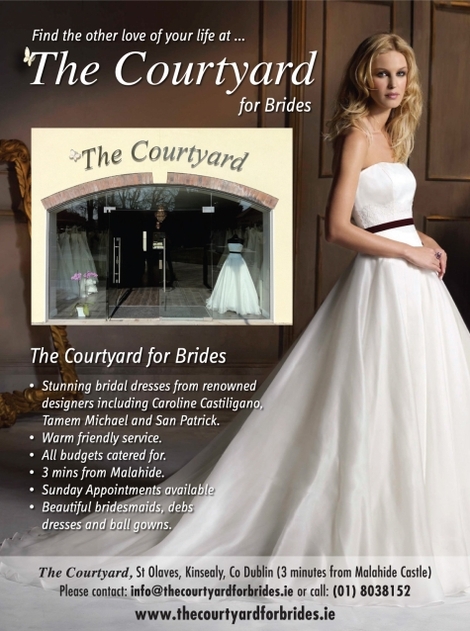 Supplier Details
Meet the other love of your life at ...

The Courtyard near Malahide offers a whole new experience of wedding dress shopping. This stylish store with its inspiring and innovative dιcor will allow you to realise your dream. With its  rich colours and textures, it provides a  stately home styled room for each bride to view our spectacular collections.
Whether it is timeless elegance, chic sophistication, or something a bit more whimsical, you're sure to find it here.
Budget or blow out you feel special and welcome from the moment you enter this unique setting.
The Courtyard offers highly personalized assistance with our in house stylist who can help create your perfect look. A bespoke service is also available for those who have always known the dress they want.

Featuring Tamem Michael and San Patrick designs we are also hugely excited to announce, to Ireland the arrival of internationally renowned Designer Caroline Castiligano. Her magnificent range of dresses are exclusive to The Courtyard.
As well as our beautiful wedding dresses, we also have a gorgeous selection of  bridesmaids dresses and for those of you who have been invited to the ball, come and view the spectacular  selection of ball gowns and evening wear.

The Courtyard , St Olaves, Kinsealy, Co Dublin (3 minutes from Malahide Castle).

www.thecourtyardforbrides.ie .

Please contact  [email protected]  or call/text  8038152 or 087 6646655.
Testimonials
Having shopped for my wedding dress on and off for a few months and helped friends do also, have been a bridesmaid on three occassions. When i walked into The Courtyard, i kew I have found something special I called by on spec, and shop was actually closed but Lisa just happened to be there and welcomed us in anyway. The shop itself is amazing all the dresses are fabulous the girls clearly have a great eye. I tried on so many dresses that blew my other shortlist of dresses in other shops out of the water. I came back about four times before eventually ordering my dress, I couldnt decide between two, so had to get my bridesmaids my mum and my sister up to help me pick 'The One' all on different occassions, the girls were so nice and helpful on every occassion and the plave itself just makes you feel special. The dressing rooms are luxurious and spacious and the shop itself has lots of room for you to walk about in and swish etc, I never wanted to take my dress off. I would reccomend this shop to anyone, its just in a different league to alot of the bridal shops around and ive been to quite as few. I am going to fit my dress tomorrow its come in and I am so excited!

I didn't actually get my dress here in the end but the shop was so welcoming and the dresses were stunning. It was one of the nicest, most fabulous experiences of all the wedding dress shops I have been to. I would definitley recommend everybody to go there.