Pretty as a Picture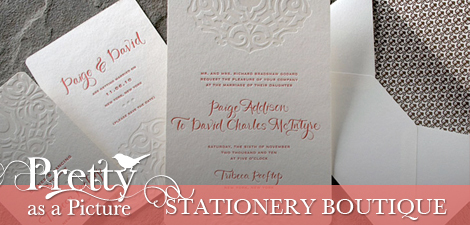 Supplier Details
Pretty as a Picture specialise in CUSTOM LETTERPRESS and digital wedding invitations. We carry a wide range of stylish stationery albums for our clients to choose designs from. Each suite can be fully customized with your own colours, fonts etc.
• Letterpress Wedding Invitations
• Digital Stationery
• Wedding Accessories
We create and maintain a boutique feel for all our customers by being flexible with personalization and customization for our stationery products.
We can create a completely custom illustration for the bride and groom to be to represent their personalities and life together. This combined with the traditional craft of letterpress offers a truly unique stationery suite.
To arrange an appointment with Ailbhe or Jane please contact us and we would be delighted to speak to you about your ideas.
Testimonials
I just received our Wedding invitations and to say I was bolt over by the attention to detail, They arrived it the most stunning box and each pack of Invitations were individual wrapped in wrapping paper to protect them. Pretty as a picture were a delight to deal with, We went to visit Amy in the studio in Wicklow and from there she showed us many other designs from previous couples which gave us so many ideas for our own wedding. We choose the Bella Figura range, a classic design but just pure elegance. Im so chuffed at how they turned out and the process was plain sailing, one less stress. I cannot wait to send them out to our guests.

I don't know where to begin. I cannot recommend Pretty as a Picture highly enough. Ailbhe was an absolute dream to work with; her attention to detail and creativity surpassed any expectation I could have had. No request was too big or too small; Ailbhe really had the patience of a saint when putting up with my annoying indecisiveness. I've never experienced customer service like it. I absolutely adore our invitations and was so excited when they arrived packaged to perfection and tied with a bow. Our guests only received our invitations yesterday and both my fiancée and I were inundated with calls and texts commenting on how fabulous, unique and personal our invitations are. So thank you Pretty as a Picture for being able to make all our ideas happen on paper in such a pretty way! Ailbhe and Jane make a great team providing a professional, efficient and very friendly service. Their enthusiasm and passion for their work was obvious from the very beginning. The pretty as a Picture studio based in Rathnew, Co Wicklow is amazing and bursting with ideas and inspiration! So if you would like your invitations to be unique, extra special and scream "YOU" then definitely check out www.prettyasapicture.ie

From the moment we met Ailbhe she was so professional and helpful yet 100% down to earth and not trying to just ''sell us'' anything - she took an interest in our wedding & helped us make it more personalised then we had ever imagined. She was so good making suggestions & never got annoyed at all the requestes we made! As a result, our invitations & mass booklets are so beautiful, unique & personalised & all of our guests called us to tell us they were the classiest & most individual invitations they had ever recieved. We're thrilled but now we need the wedding to live up to the invitations! Thanks Ailbhe x

I just picked up my invitations from Pretty as a Picture and couldnt be happier - they are absolutely fabulous and have totally surpassed my expectations!! I am so delighted and can't wait to send them out now. I am also so impressed at the how professionally they have been packaged and delivered.
Jane and Ailbhe at Pretty as a Picture were a dream to work with, their studio in Wicklow is beautiful and nothing has been too much trouble over the past few weeks! I would highly recommend Pretty as a Picture if you are looking for something classy and a little different! ;-)

Just ordered our invitations and am so excited!! They are letterpress invitations so are very different to usual style of invitations. We got them from place called pretty as a picture. You can check out their website www.prettyasapicture.ie and you will see the range they provide. But have to say they have a studio/gallery in wicklow and when you visit there you will really see how impressive the range is. The girls were very professional and really gave us time to pick and choose, talked through colour options etc. Am so excited about seeing the invites when they come. If you want something classy, I def think you should contact the girls at pretty as a picture.