Amber Moon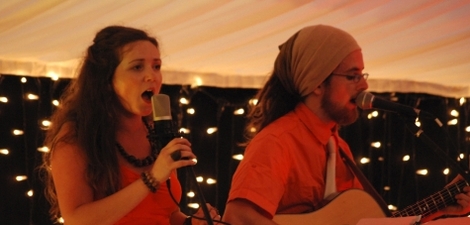 Supplier Details
One of the most sought after bands in the midlands for wedding ceremonies and other functions, Amber Moon delivers a professional and high quality show everywhere they perform.
Two well known, established, and sought after musicians in their home town of Athlone, throughout the midlands & nationwide.Both are experienced, confident, professional, and passionate performers who devote their lives to pursuing music. Much of their time is spent either on stage, in studio or touring with various groups on the road.
Amber Moon specialise in music for wedding ceremonies (Please see below for more details on weddings), small corporate and private events. They will work with you well in advance of your event date to understand your preferences, and plan the right performance for your celebration. As Amber Moon are based in the midlands they are happy to travel anywhere in the country. They are also happy to choose your music with you through email, phone or complimentary consultation.
We currently play the church and arrival/pre-reception at many weddings around the country, and are currently doing a special offer for both options combined.
Weddings:
(Available as duo or trio)
Duo Amber Moon provide a professional and personal service for your wedding day.

This is achieved through their collaboration with you in choosing music, and making it a reality with their enchanting sound.

Anne Marie's voice coupled with Bean's guitar style & vocal harmonies create a spell-binding effect which truly enriches your wedding ceremony.

Their style and musical timing allows the ceremony to flow, with their experience in weddings and ceremonies, this confidence in their ability to create what is required puts even the most nervous of couples at ease.

Amber Moon are also available as a trio, in order to offer you a wider choice of instrumentation.

Duet - Voice- (male & female)- Guitar & Flute/Whistle

Trio - As above plus any of the following:
Flute, Harp, Fiddle, Accordion, Banjo, Bouzouki, Bodhran, Mandolin, Female Vocalist or Uilleann Pipes"
Ceremony
Our church music comprises of hymns, instrumentals and the songs of your choice. We also provide music for non-religious ceremonies.
Arrival/Pre-reception
Our arrivals music is a blend of easy-listening, contemporary and classic oldies. We have a broad selection of material to keep you and your guests entertained. Alternatively, we can also provide a Traditional Irish session.
Please call for prices, availability, setlists and further information:
Bean Dolan: +35386 3422989
Find us under 'music westmeath' or 'church music athlone'
Testimonials
Amber Moon are fab!We had them for our wedding last August. Bean is such a nice guy and gave us loads of advice on church music etc. The atmosphere was great in the church due to lovely music, and even better at pre dinner reception. Actually felt guilty paying the price they gave us!Book them now!

We were so lucky to have Amber Moon providing the music for our wedding ceremony. From our first meeting with them they put us at our ease and had lots of great suggestions. On the day, the music was just perfect and everyone commented on it. I couldn't recommend Amber Moon more - they were brilliant!

Amber Moon played at the Church part of our wedding and they did simply an amazing job. Our wedding book has several mentions from our guests on the amazing music provided in the church. They played everything we wanted to hear on our wedding day and were a pleasure to work with. Simply Amazing, highly recommended!

Amber Moon played at both our church and wedding reception. They were very professional but also a lot of fun. They adapted their music to suit each part of the wedding, were highly punctual (arriving long before anyone else) and played exactly the type music that we asked of them and to the highest quality. I highly recommend them for weddings and any other event too!

In short they are amazing!!! Amber Moon provided the church and pre-reception music for our wedding August 2010 in Wexford. We couldn't have been more pleased with their performances. Anne Marie has a crystal clear voice which filled the church that day and made the ceremony a really beautiful occasion. Many of our guests that day commented on how gorgeous the music was both at the church and the venue. Amber Moon really did create a wonderful ambience for our wedding that day. Thanks so much guys.