Marie Keating Foundation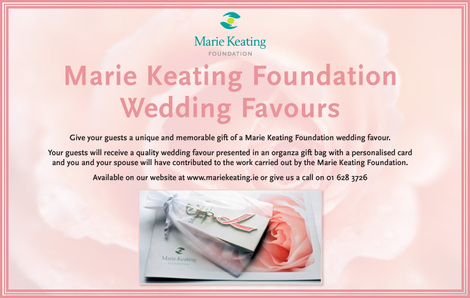 Supplier Details
In this age of excess, sometimes it is good to give something back.

Instead of following the conventional route for your wedding gift list and favours, why not make a charitable donation instead.

Choose how much you want to donate and receive beautiful personalised Thank You Wedding Cards for tables.
Or
Choose from our quality favours presented in organza gift bags

The Marie Keating Foundation raises funds to support its work in the area of cancer education and support across Ireland. This work includes our community information service which reaches out to men and women with our key message of health promotion and the importance of early detection in beating the disease. In providing support to those families unfortunate enough to be affected by cancer, we provide a "Comfort fund" by way of financial assistance as well as working with hospitals to ensure that all waiting room facilities are made as comfortable as possible for those patients who use them, often for long periods of time. As we are not government funded your support allows us to increase this fund and help as many people as possible.