Galway Bay Hotel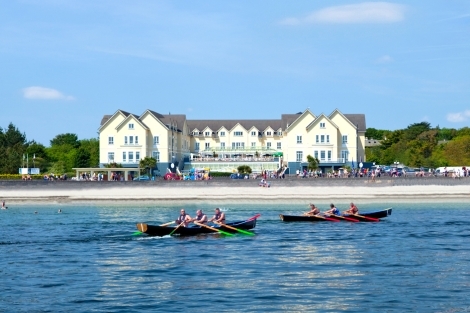 Supplier Details
Our Galway hotel is a spectacular wedding venue providing a perfect fairytale location to ensure that your special day is unforgettable. Luxury and elegance coupled with astounding views lend to the air of romance that is guaranteed when you choose one of the top Galway hotels for your wedding day. 
Galway Bay Hotel is one the premier wedding hotels in Galway and indeed, Ireland. Our spacious ballrooms have private bar facilities and cater for up to 400 wedding guests. The Lettermore and Ballyvaughan Suites are a beautifully designed & luxuriously furnished wedding venue lending a warm and intimate atmosphere to your wedding reception. By co-ordinating the colours of napkins & flowers to your wedding theme, the banqueting suite comes alive with your own personal stamp on it.
Come to Galway Bay Hotel - one of Ireland's premier wedding venues in Ireland. Our annual Wedding Hotel Fairs provide brides and grooms with the opportunity to see the banqueting suite set for a hotel wedding, meet with the management team and discuss their wedding plans with the range of wedding hotel service providers who will exhibit on the day. Exhibitors hail from throughout Ireland and are delighted to discuss each couples wedding plans. 
WEDDING CO-ORDINATOR
Our dedicated and experienced wedding co-ordinator and management team will attend to you personally from your first enquiry to your arrival at the hotel for your fairytale reception. This is your day and we will ensure that every detail will be carried out with the utmost professionalism and accuracy. Our 4 star wedding hotel Galway, has dedicated and professional management and staff to ensure your special day is a dream come true.
Individual requirements for the layout of the suite can be co-ordinated through our experienced management team, who will guide you through the wedding planning process & be there to oversee your day.
CEREMONIAL OCCASIONS
As one of the finest wedding venues in Galway, we are an approved venue for Civil Ceremonies and we have a number of different options available for your ceremony and reception. However many guests will be attending your ceremony, we have selection of different rooms to suit all sizes. In addition we are also happy to offer one wedding per day for the majority of dates. If you are looking to have a Civil Ceremony please contact us, as our expert team would be delighted to discuss it with you.
Some advice for planning a Civil Ceremony:
The first thing the wedding couple will need to do is apply to the Health Service Executive Civil Registration Office. Each couple must apply directly to the Registrar. The hotel is not allowed to apply on the couple's behalf.
You need to apply at least 3 months in advance, but it is advisable to apply at the earliest possible stage to guarantee your chosen date. 
Under HSE Guidelines, the ceremony must be indoors.
Contact Details for our local Registrar Office
Civil Registrar, HSE West, 25 Newcastle Road, Galway.
Opening Hours: 10:00am - 4.30pm Monday - Friday
Phone: 091-546-277
Fax: 091-582-028
See our wedding offers section for more information on our Civil Ceremony Package.
Testimonials
I have placed this as part of our overall wedding review on the forum but just thought I would put it hear as well;
I would just like to convey my sincerest thanks to all the staff at the Galway Bay Hotel for the wonderful experience they provided to us and our guests at our wedding this past July. I could not recommend them highly enough; they were first class in everything they did for us. If I was to use one word to describe the Galway Bay it would be Professional, with a capital P! They were fantastic.
I would especially like to thank the manager Dan Murphy, our wedding liaison John Frazier and our duty manager on the day Diarmuid O'Conghaile and his colleague Valerie, who were both so professional and a pleasure to deal with. I would also like to give a special thank you to Willie Madden who was a tremendous help to us on the day after the wedding, and also to Victoria and Serge, who were a great help in the days leading up to the wedding.
We, as is becoming more common, returned home from Australia to get married, which meant that all the pre-planning had to be done through email and through various family members. As difficult as this was for us, I am sure it was not ideal for the Galway Bay personnel either, however the staff were extremely accommodating and made the whole process as stress free as possible. As we were only arriving in to Ireland two weeks before the wedding they allowed us to hold off on a lot of the final decisions until we could actually sit down with them face to face.

They brought us up for a tasting just ten days before the wedding which, as silly as it sounds, was a big deal for my wife as she had missed out on a lot of the traditional planning tasks due to us being on the far side of the world. Not able to decide between a number of delicious choices, we asked the hotel for their recommendations as to what they were most confident with, given the numbers, fresh produce at the time etc., and it was the best choice we possibly could have made. The food on the day was fantastic, different than your usual wedding fair, and we received compliments throughout the night and following days from our guests.
It was a large wedding, 300 plus, yet everything went like clockwork, not one hiccup, or if there was we certainly weren't made aware of it. We were absolutely blessed with the weather, and it really brought out what a stunning location the hotel is in. The patio deck, with the sun shining and the sea breeze, it really doesn't get any better than that. Even our guests from Australia were blown away.
As impressive as the staff were on the wedding day, I dare say they were even more impressive on the following day. We had talked with them in the week prior to the wedding about having some sort of food available on the day after the wedding as a number of our family members and friends had planned to stay on in Galway for a second night. They recommended a BBQ which we decided to go with, even though we couldn't give them final numbers until that day.
The numbers fluctuated on the morning after the wedding from 60 to the final figure of 120, yet the staff couldn't have been more accommodating and it went off without a hitch. They set up the BBQ in the sunshine on the patio deck and served a beautiful meal, with plenty of food for everyone. Admittedly, the fabulous weather played a large part in the success of the BBQ, but we got so many compliments from our family and friends afterwards, it was the perfect way to round off a great weekend.
I really cannot recommend this venue highly enough, and my wife and I cannot wait to go back when we are next home, to once again convey our thanks and reminisce on the greatest weekend of our lives.

I wish to Thank the Galway Bay on our wedding day that took place the 26th August 2011.
The moment we commenced meeting the those involved in organising, their professionalism, the hospitaliltyon the day of wedding,the food was delicous all people enjoyed the food,wine outstanding.
The hotel staff amazing so helpful and friedly the waiting staff also.Special thanks to Victoria the wedding co ordinator, John duty manager and Valerie they made our day so special.
We had a fantastic experience.

My husband and I recently got married in the Galway Bay hotel at a civil ceremony.
The fact that we live in London didn't matter at all as Victoria and her team helped in every way they could to make things easier for us.We booked the civil ceremony package with Vogue events through the hotel and I'm delighted that we did as the room was transformed into a fairytale!! Details down to the rose petals (matching the bridesmaids dresses!) on the white carpet isle, the candles and fairylight back drops were breath taking.For anyone not wanting the whole church thing, go have a chat with Victoria!!!Most of our guests travelled from London and all were blown away with the hospitality of the hotel, the quality of the food and the service. I must also thank John and Valerie on the day.
Thanks to all the team and staff for an unforgettable day!!

My Husband and I got married June last year and i just wanted to share our wonderful experience with you. Our wedding was fantastic and we would not have done anything different. Our reception was held in The Galway Bay Hotel, Salthill and in my opinion it is the only place to have your wedding reception. From the very first time we walked into The Galway Bay in April 2008 we were treated so so well and this was to continue right up to our wedding day. From day one the whole wedding team especially Victoria and John were brilliant. Anything at all they could do they did it and even more. On the day of our wedding absolutly everything was first class. The food, service everything was outstanding. Most of our guests commented on the food and service how great it was. We have been to a couple of weddings there since and everything was fantastic also. If future couples are thinking hotels in Galway definetly consider The Galway Bay as i could not praise them highly enough.

"We had a wonderful day and the hotel was fantastic. The food was as usual glorious so please pass along our compliments to the chef. A particular thank you must go to Diarmuid O'Conghaile (Duty Manager) who was absolutely marvellous. We were both extremely impressed, he was utterly professional and a pleasure to work with.
The hotel was flawless in every aspect of our wedding day, and we and all of our guests had a brilliant time. On behalf of John and myself, I would like to thank everybody concerned in the execution of this event which obviously to us was an extremely important day. It really was one of the best days I have ever had". With Best Wishes

"I just wanted to say again a massive thank you for all your help in the build up to mine and Brian's wedding. The day was just fantastic and everything went to plan perfectly. We have received so many compliments regarding the food/service and hotel in general. If you could pass on our thanks to Diarmuid and Alicia also for all their help and anyone else involved in making the day so special"