Sheraton Athlone Hotel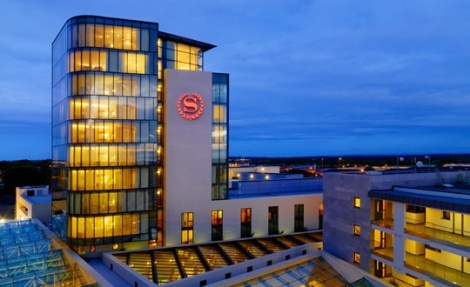 Supplier Details
At Sheraton Athlone Hotel, our success stems from three core ingredients - the warmth of our wedding team, the remarkable quality of our cuisine and the impeccable standard of our service. Together, this blend has established Sheraton Athlone Hotel as one of the finest wedding venues in Ireland.
Our Executive Chef and his talented team will design the perfect wedding menu, incorporating all your favorite flavours and the finest, freshest ingredients.
Our banqueting team will create a truly personal and exquisite dining experience, one that you, your family and dear friends will cherish and savour.
With only one wedding per day, you can be rest assured that you and your guests will be our only priority and the centre of attention on this, your special day.
Whether a grand or a more intimate wedding, the Hoey Suite is a truly magical and atmospheric venue for your wedding reception. Hundreds of strands of sparkling crystal hang from five stunning chandeliers to give the room a soft gentle light.
Our impressive feature light wall also adds a sparkling backdrop to this exquisite room.
And that's not all. You can reflect your colour theme throughout the room by selecting colours from the lighting menu ensuring that your wedding day is simply
Spanning the top two floors of the 12 storey Sheraton tower, the Presidential Bridal Suite has double height floor to ceiling glazing, living area, dining room and private balcony with a magnificent mirrored steel and glass spiral staircase leading to the mezzanine level sleeping quarters. A crystal chandelier by Brand Van Egmond illuminates the two floors.
Your guests can enjoy 4 **** excellence throughout the 167 luxurious bedrooms and suites. Many of our guest rooms boast floor to ceiling glazed facades - which allow for idyllic views over the meandering river Shannon, Shannon Callows and surrounding Lakelands.
Hotel facilities are at your disposal during your stay which include the unique Sirana spa and Sheraton Fitness leisure centre with its remarkable aquatics area; swimming pool, 3 feature pools and state-of-the-art fitness equipment.
Please contact our wedding coordinator Anna Donnelly for more information on 0906451000 or on [email protected] or visit www.sheratonathlonehotel.com for more information on their packages

Testimonials
Hi Anna,

Sorry for delay in replying to you.

All back to normal again, but at least we have Christmas to look forward to and another break!
We had a great honeymoon, really enjoyed it and a great wedding day. We were very happy with the Sheraton and glad we choose it. So many of the guests complimented the hotel and the meal they got on the day, they were very impressed.

Talk to you soon

Hi Anna,

Apologies for only replying now, there was a build up of mails while we were away and I've just noticed this mail now.
We had a fantastic honeymoon and used the SPG points you gave us towards the Thailand leg of the trip. So thank you for that.

Thank you all for all the work you and the team put into our wedding, everyone was so impressed with the hotel and the staff. Also, can you tell Sean O'Keeffe I said thanks, I how he had a job keeping my 5 yr old niece away from the chocolate wedding cake on the day ;-).

Absolutely if we're around that area mid-week when you're in the office we'll call in.

Again, Many thanks for everything

Michelle

We were delighted how the day worked out, would especially like to thank yourself last,
Kellie on front desk for being unbelieveably helpful with Room changes etc due to weather.
And Daniel also for being so helpful on the day, the man knew his job always one step ahead of proceedings.

On the whole anyone who attended were singing your praises, so thanks to the team there for a job well done.
People were genuinely impressed with how helpful all members of staff were on the day,

Regards

Hi Anna,
Just back to work and the honeymoon is over!!!

Just wanted to drop ye a note to say a huge Thank you to you Sean and all the team at the Sheraton for all you did for us on the day.
We were really well looked after and all the Scottish clan were really impressed and a lot of them have promised to stay with ye in Athlone again.

Thanks again for all your help.
If you could forward me Sean's email or forward this to him Id be so grateful
Kind regards

We had the most wonderful time from the moment we stepped into Sheraton Athlone doors until we left two day's after our wedding – we wished we stayed on for our honeymoon!!
Our experience here was wonderful everything we asked was done with the most professional and warm approach
Seamus & Johnny's care and attention was second to none from our wedding tasting until the party we had on the day after our wedding in Sheraton Athlone.
All our guests complimented and raved about the wonderful food and service and the standard of the hotels accommodation.
Our Bridal Suite was magnificent the view from the surrounding area was an ideal photo opportunity
We would hand on heart recommend Sheraton Athlone Hotel - It was the best day of our lives.
The warm inviting atmosphere that the employees provide is fantastic so much so we will be back with our friends for a break in a few weeks
Thank you so much