Audrey's Wedding Occasions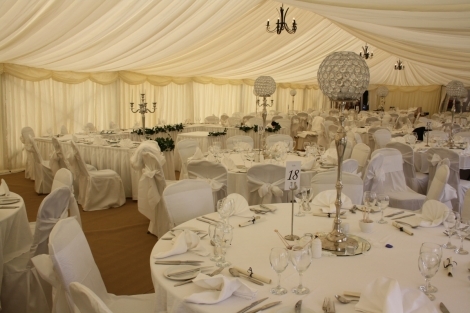 Supplier Details
Located in Pallasgreen, Co. Limerick we are only ten minutes from Limerick City, and travel nationwide.
We specialise in Weddings and create elegant unique designs to the highest quality to suit your wedding needs.
As a family run business the key to our success is paying attention to the small details. Through personal design consultations, we will transform your venue to make your wedding an unforgettable event for you and your guests.
We provide custom designs reflecting your personality and style, maintaining the highest standard of product quality.
We cater for all styles and sizes of Wedding Reception, church wedding and civil wedding ceremony. We aspire to innovative and unique designs delivered with a personal touch..
We offer a high quality, value for money wedding flowers, church and reception decoration service with full delivery and pick up service
Browse through our website to get an example of what to expect. Keep in mind though that your day will be unique to you.
Testimonials
Audrey did my flowers for my wedding in April 2012 and what an amazing job she did. I have to admit I didn't know where to start when it came to flowers & decorating the church but Audrey was so straight and calm we had it all done and dusted in an hour or two. She has an amazing selection and for all budgets. Our church wasn't the prettiest of churches and needed a lot of help, when I called the night before to see it I was amazed @ the transformation. We also rented one of her amazing table plan trees for the hotel. Audrey goes the extra mile in every way; I can't recommend her highly enough. Thank you again for everything!

Audrey did the flowers and provided the seat covers and centrepieces for my wedding in early Feb 2012. I cannot recommend her highly enough for her professional service, competitive pricing and most importantly for being such a lovely person to deal with, taking her time and vast knowledge to make sure all the flowers were perfect for the big day. Well done and thanks again Audrey

I was looking for something special to decorate the function room for our wedding. Audrey has everything you can imagine... simply beautifully to extravagant. She has everything you can imagine, too much choice! I went with candelabras and jewelled hurricane vases... simply beautiful! Audrey was so helpful, taking time to show me the difference set up options from previous weddings she had done and very keenly priced compared to other suppliers. All our guests complimented the table displays and I have no hesitation in recommending Audrey.

Let me start by saying do NOT have a clue about flowers, booked my apt with Audrey last week for my wedding in April. My dress is white and my bridesmaids are black and white,so wanted to create a nice theme around this. When I met Audrey I was brought into a studio full of AMAZING and WOW FACTOR weddings decor, there were traditional candelabras, crystal candelabras, candelabras in differnet colors, a sweet cart, loads of table plan trees, ones that were mounted on mirros, chair covers, chair bows, dimante ties for the bows, mood lighting, bombay trees, giant candelabra and them ALL the photo albums of brial bouquets, bridesmaid bouquests,church setup, button hole options....basically I had entered a zone whereby there WAS WAY TOO MUCH CHOICE.....I started to worry that I did not know what to go with and Audrey sesnsed this and sat me down, got me a coffee and asked me what I waned. After a lot of wading through albums we made ourt selection on our flowers. let me point out that when I made my apt with audrey that I was only planing on getting my flowers, but after seeing all the other bits and bobs that was in the studio I had to find out about costs etc. I was a little sceptical as we are working to a very tight budget...once I had asked of what I wanted (my wishlist that I thought I could not afford) I was blown away by the quote...OH MY GOD....she is FIERCE good value....now my hubby to be nearly had a canary as we only went about flowers, but after both Aufrey and myself explaned (ha ha) how nice the room would be and once Paul saw the quote we couldnot believe it, actualy asked her could she re-caluclate as it seemed to good to be real....All I can say guys is that if you are looking for a professional and enthusastic florist who has a LOAD (remember that if you book an apt you should nearly wear a blindfold as you will wat EVERYTHING)of good ideas and is very passionate about her job then yoou should give her a bell. Even today we went in about our suit hire, I had picked a red rose and sent her a pic of the cravats for the groomsmen who are red,and said if the color Ihad picked was not the same to go ahead and match it as close as possible...and a few mins later she text me back to say she would call to Mike O Connells on Monday to see the color in person and go from there.....Fair play Audrey I think you are doing a wonderful job...and I am sure that all our flowers, room decor and everything else you are doing for us will be amaxing in April.....THANK YOU SOOOOO MUCH.xx

Brides to be If you are looking for a excellent florist to meet all needs and budgets , I can only recommend Audreys flowers in Pallasgreen .. From the moment we met , she put my mind at ease , recommended what would suit our theme , came in under budget and even put in more than expected. She's a lady and cannot wait to see my church and marquee , honestly Brides to be I cannot recommend this woman highly enough. She sat with me for 2 hours going through different arrangement and pictures of them . She has a passion for her job and that was evident throughout our consultation. She came in under budget and everything is of superior quality and detail. Roll on June 29th

I booked Audreys wedding occassions at a fair in limerick. Despite the wedding taking place in Wexford, the distance was not an issue to Audrey and Pat. Audrey put great effort into finding the exact colour sash to suit the theme of the wedding. The day before the wedding, Pat and the team set to putting together the room and they did such a super job- everyone was saying how the room really had a 'wow' factor- the candelabra were amazing, they really set off a great atmosphere. I also want to note how hard working they are as Pat had returned in the early hours of the morning despite having travelled across the country in the night. Very dedicated, professional and friendly service. Would certainly recommend to any couple plannning a wedding!