Pump Up The Jam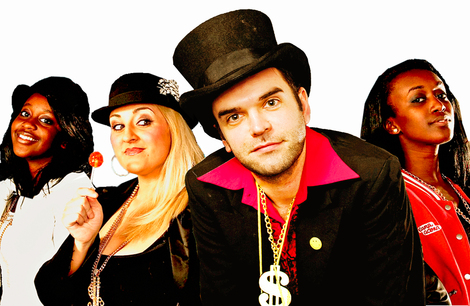 Supplier Details
Pump Up The Jam are The Ultimate '90s Party Band. We play all the best-loved Guilty Pleasures of the 1990's - songs from Black Box, Dee-Lite, 2 Unlimited, The Prodigy, Faithless, even AC/DC!
Not Your Average Wedding Band
If you've seen Pump up the Jam before, you'll know that we're a little bit special and very different from any other band that you could have play your wedding. We are a 6 piece band, we have all the specialized equipment (including a hybrid drumkit) needed to recreate the sounds of the '90s live and we always wear our ace '90s gear (including our boot runners and chains!)
We have as our frontman, guitarist and master of ceremonies, Liam Mc Cormack (RTÉ's presenter of The Café, TTV and Sattitude 
http://www.youtube.com/watch?v=1IvUCyaSq_w
). We have our Droids TB-303 and TR-808 on Bass and Drums, Swedish/Ugandan sisters from Kilcock Winnie and Susan Nsubuga on Keyboards and Vocals and the fabulous Missie Lee on Vocals.
Pump Up The Jam is managed by Bassplayer with the 'Camembert Quartet/Late Late Show House Band' Cormac Moore, who has played hundreds of weddings himself and will be the person you will be talking to about the arrangements for your big day.
We love playing weddings, and never fail to bring crowds both old and young racing to the dance floor. With our perfectly-honed setlist, amazing musical and vocal abilities, our brilliant costumes and audience interaction skills, there really is no-one else to compete with us! We can also arrange to have a warm-up act to play before us, and DJ afterwards so that all the entertainment is taken care of for the whole night.
-We will provide DJ services if required, before and/or after the main show.
-Contact us to find out about our optional warm-up act the
legendary lounge singer Tony St. James
, who will play all the oldies, waltzes and classics beforehand, so you don't have to worry about disappointing Aunt Mary!
Testimonials
I don't even know where to start with the band... all I can say is WOW! I literally did not leave the dancefloor all night (very lucky to have packed the flip flops). PUTJ actually made our wedding! I was sick and tired of the question, "OMG where did you get that band" by the time we left Sligo on the Sunday. Gone were the nice remarks about our wedding ceremony, dresses, dinner etc, it was all about PUTJ. Every single person was up dancing, even the oldies! Apparently the bar in the hotel did no business during the full 2 hours that they played.

At one stage, while on the dancefloor, I was talking to someone on a mobile phone who was calling to listen to the music. There is no doubt that you will get repeat business from our wedding, we were in-undated with queries!

What a night!! Thank you so much!

Thanks guys for playing at our wedding on Friday, all our guests had a great time and thought you were brilliant and thanks to Missie Lee for helping to tie my dress up so I could dance the night away :-) xx

You guys were incredible when you played at our wedding last month. I've honestly never had so much fun in a suit in my life! And trust me when I say I speak for everyone on the dance floor when I say we're looking forward to another gig just as soon as you can organise it!! Again, congratulations on a rave well done ;)

Thanks so much for the wonderful show at our wedding, we'll never forget it- and neither will our guests-well they're still talking about it! Thanks so much guys!! And- I hear you got stuck talking to my granny before ye performed- thanks for that too- she said ye'r all lovely!! xx

Thank you so so so much to Paul, Pump and all the crew for making it to Rathsallagh in the madness of it all. Pump were the bomb, our friends complained of aching bodies the next day!

 

What can I say... Pump up the Jam were amazing. We had such a wonderful, FUN wedding day, everything exceeded our expectations, and the band were no exception. From when they got on stage I don't think I left the dance floor, Our guests were also blown away by them, all age groups. Their interaction with the audience also really added to it. We had so much fun when Missie Lee (who was sooooooooooooo nice to deal with) started to re-teach us all the dance moves to 'Saturday Night'.. this really added to the night. I never in a million years thought I'd ever see all my dad's friends giving it loads to The Prodigy.. but I have the photographic evidence:)

Tony St James was also brilliant,and loved by all.. He is super talented and we all laughed so much.