Nicky McDonnell Photography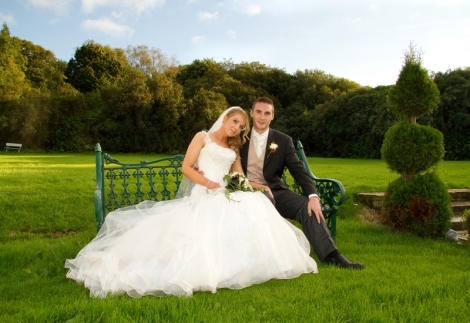 Supplier Details
Each wedding day is full of special moments...

The emotional first glance at the top of the aisle, the laughter, the tears, the sneaky kiss..after months of planning and hard work, these are the details you want captured forever! My aim is to tell the story of your day, keeping things relaxed, informal and enjoyable! Capturing your special day! Your way! I am a full time professional photographer, fully insured and I travel nationwide free of charge. I have plenty of options available to you, from CD only to Storybooks or traditional albums, or even a combined photo/video package with over €500 worth of extras free.

Boudoir shoots are becoming increasingly popular, I have a studio full of boas, props & ideas.. Ready to bring out the natural beauty we ALL have! Go on girls treat yourself!
Testimonials
We got our wedding disc yesterday and they are just amazing! I knew you were the perfect choice for us when I arrived at the church, you put me completely at ease. You even acted as bodyguard at the car for the laties arriving at the church!!!! You captured the feeling of our day and of us as a couple perfectly, you covered all the formal and group shots with efficiency and I absolutely love the shots we didn't even see happening of us interacting as a couple and family. I hadn't expected to get emotional looking at them as I've seen several of the snaps by guests but I did, they are fantastic. Thank you thank you thank you and to any other brides to be who have booked Nicky - be assured that is one "wedding decision" you definitely won't regret.

Boudoir By Nicky - I found the idea of the boudoir session on Weddings Online as well Nicky's name. It wouldn't be something I would have thought I would do but after it I was delighted that I did. It is something you will do once in your life and both you and your partner will have it to remember for rest of your lives.
I wouldn't be very good at make up so decided to have it done for the session. Nicky booked a girl for me and I was delighted with the results. With this and the false eyelashes it made such a difference in the photos. I hardly recognised myself.
I can't praise Nicky enough, i felt so comfortable for the photo shoot and was not rushed at all. Id say I went through about 8 or 9 outfit changes. I may have travelled from the south east to Nicky's studio but it was the best weekend ever.
I decided to go with an storybook album. I felt it allowed me to use more photos and give a full reflection of the session rather than my husband only seeing one or two of them. He calls it his "special book". I think he is still recovering from the fact that I did this as his wedding present.
I will never forget the look on his face when I gave it to him. It was most definitely worth it.
For anyone who is thinking about it I say go for it. Best thing you would ever do. Nicky is great and you only do what you want to. Whether it is a wedding present or another special occasion it is a brilliant gift to both of you. And also before your session think about what your partner is interested in. I used an irish rugby jersey and a short denim skirt as outfits as well as underwear sets.
My only regret is that we had a photographer booked for the wedding before this and I didn't use Nicky for our wedding day.

Hi Nicky, Just to say Thank you for all the fab photos, you were absolutely amazing on the day I felt like you were an old friend that was taking my pic, which was fab! you were never in the way or in our faces or bossy which i really was happy with as i felt it made my day more relaxed. Thanks a million.
Love Natalie and David

Nicky, thank you so much for our Wedding photos. The photos are absolutely lovely. I love the way it tells a story before during and after the ceremony. I was very impressed with all of the photos of us and our guests and especially the ones that were taken without us even knowing that we were being photographed. They really captured some of the great moments of the day. I felt very emotional watching it! You were so professional and I would have absolutely no hesitation in recommending you.