Go Dutch Flowers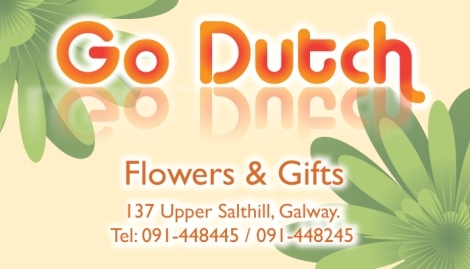 Supplier Details
Why choose Go Dutch Flowers?
Award winning florist Henk Van Enk has over 35 years of experience in the floral world and the friendly Go Dutch staff are extensively trained in creating the perfect floral arrangement to meet your needs. Together, they will help you choose the right flowers and colours for any occasion.
Make an entrance, and leave a lasting impression. 
Whether it's that first step into your home or the first thing she sees when you walk in with a fresh picked bouquet. Whether it's the smell that greets you, or the smile that you receive, when you show that you remembered.
Once you do, you will be greeted with the most beautiful flowers from around the world, handpicked, unique gift ideas from near and far. The perfect designer arrangement to make an impression that lasts. An impression that will last for more than one lifetime. Wedding, sympathy, birthday, anniversary, new born baby, a pat on the back or just to say 'l was thinking of you', whatever the occasion, we can help you say it perfectly.
Go Dutch Florists and flower delivery, for the impression that counts.
For business, functions and exhibitions please contact Henk Van Enk on phone 091-448445/448245 or mobile 087-9326 763