Music by Brenda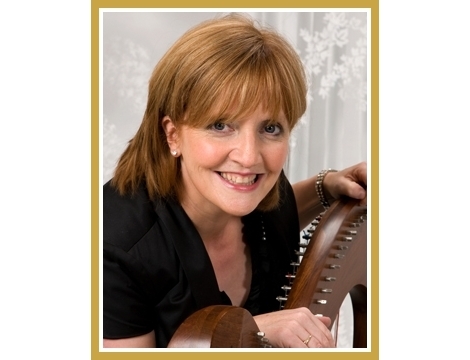 Supplier Details

Brenda Grealis has been singing at church ceremonies for over 20 years.  She is a trained and experienced performer.
Brenda is a former member of the Bunratty Castle Singers and the Knappogue Castle Singers, Brenda has performed extensively in musicals, concerts and choirs and has been successful in numerous singing competitions throughout the country over the years including an All Ireland Readoiri Solo Singing title.
Self accompanied on guitar and piano, Brenda also plays flute and harp and has built up an extensive repertoire ranging from classical and traditional to modern / contemporary music.
Services:
Wedding Singer / Musician
Funeral Singer / Musician
Pre-Dinner Receptions
Corporate Events
Covers Mayo, Sligo, Roscommon & Galway
Weddings are a Speciality
The wedding ceremony is a very special part of your wedding day.  Carefully chosen wedding music and songs will both enrich and add something very special to the wedding ceremony.  Incorporating carefully chosen and beautiful music and songs will without doubt make your wedding day both memorable and special for the bride and groom as well as for their family and loved ones.
Brenda will discuss and advise you on both music and songs for the church ceremony.  She will use her vast experience in this field to choose in conjunction with the bride and groom what is suitable and meaningful.
Brenda would be more than happy to learn any suitable arrangements of music or song the bride and groom may request.
If you have any further queries or would like to discuss any further aspects of the ceremony music please do not hesitate to contact me on 087 6233 083 / 094 90 31342.  You can also email me: [email protected].  I will be more than willing to accommodate and advise you.
Testimonials
Hi Brenda, Just want to say a BIG Thank you for making our day so special. The music in Ballintubber Abbey woz out of this world and you come highly recommended to all our family + friends. Thanks again and happy new year to you and your family.

Brenda, Thank you so much for singing and playing the music at our wedding ceremony and drinks reception!! The variety of songs and instruments was great..We received so many much deserved compliments about you. You put your heart and soul into the music and we couldn't have been happier. You even squeezed the harp in for us:) You were an absolute pleasure to deal with and gave us plenty of advice when needed. I will have no problem recommending you to anyone!

Hi Brenda, We would like to say a hugh thank you for singing at our wedding  Your voice is truely a gift and everybody thought you were fantastic - you made out ceremony very special. 

Brenda recently sang and played at our wedding in Belmullet. From the first phone call with Brenda, we found her extremely professional, obliging (just couldn't do enough for you), and very easy to work with. Her singing on the day was just amazing. Many of our guests commented on her amazing voice and music. She enhanced our wedding ceremony so much. We would without hesitation recommend Brenda. A BIG THANK YOU BRENDA.

Hi Brenda,
Thank you so much for singing and playing music at our civil ceremony marriage in the Diamond Coast last month. Everyone has been complementing us on your preformance since - your voice is truely amazing and your talent is admirable.
Thank you so much for learning our special song, 'One Day Like This' b...y Elbow, which you sang with such passion. And not to forget, 'It Must Be Love', by Madness.
I will be recommending you to anyone I know with an event of any kind coming up and will certainly be looking for you to sing again in the future.
Best Wishes.

I have had the pleasure of including Brenda's music on my night-time programme. Brenda is extremely talented, professional and exercises great versatility in both her singing and her ability to play a variety of musical instruments. The response I received after playing her version of Bette Midler's "The Rose" was big and very complimentary. If you need a versatile and professional singer/musician you need look no further than here. I have only the utmost praise for Brenda's talent and will be giving her more airtime in the future.

We came home from London to Mayo to marry in our local church in Claremorris. The hotel gave Brenda's name to us. From the start Brenda was professional and extremely nice and helpful to work with.
She guided us through our choice of music and songs and helped us choose carefully. Brenda covered every detail thoroughly. We had listened to her sing on her website but on the day when she performed live in the church we were totally blown away with her heavenly and majestic voice. In addition to being a fantastic singer she plays several instruments so we felt we had several musicians in the church when in fact Brenda plays many instruments from Harp to flute to guitar – we could not have been happier with the church music and if anybody is wondering who they are going to get for their church wedding music we would without doubt not hesitate in recommending Brenda – We will be forever indebted to Brenda for making our wedding mass so very special – THANK YOU BRENDA

My husband Michael and I were fortunate enough to secure Brenda as the singer at our wedding ceremony. She had come so highly recommended to us but I don't believe we fully understood how helpful and facilitating Brenda would be until we had the opportunity to work with her.
Brenda met with us to discuss and assist us in choosing our wedding music. We explained the type of church ceremony we had in mind and both of us would agree that Brenda's understanding and appreciation of music coupled with her wealth of experience made us feel we had prepared the most fitting and personable music selection for our special day.
What is so extra special about Brenda is the level of intensity and depth of feeling that is delivered in her singing. Her rendition of 'Ave Maria' during our ceremony was absolutly beautiful. Brenda filled the church with a roaring applause....everybody spoke about her singing afterwards. As the bride and groom, Michael and I had goosebumps and in fact I shed a tear. It was one of those memorable and perfect moments.
If you are looking for that extra special something for your wedding ceremony then we would strongly recommend you consider Brenda. She has an amazing talent and is a truly wonderful person to work with. Brenda, we will always be thankful to you. Lots of Love

Andy and I cannot praise Brenda's part in our wedding day enough!
We live in New York but decided to get married in the church where my maternal grandmother grew up in Ballyvary, Mayo. We wanted a traditional but relaxed and inclusive wedding ceremony and the music was a very important part of that.We were delighted to meet Brenda, who lives locally and discover that she plays many instruments well! From the start, she was very friendly and fantastic in all aspects of helping us – she was flexible in having preparation calls, given the US/Ireland time difference and then meeting us in person when we arrived the week before the wedding. Brenda gave us really great advice in helping us select a mixture of hymns and instrumental pieces, getting us the balance of both Irish and English tunes.
During the wedding itself, she sang and played beautifully and afterwards many of our guests commented on how special the music and her performance had been.
We would thoroughly recommend Brenda's work and would love to have her perform at our next Mayo event!

Brenda you recently sang at our wedding and I just want to say how completely happy we were with the singing you provided for the church. You have such an amazing voice and we so loved your version of Over the Rainbow which we asked you to sing. I saw you recently singing at a friends fathers funeral and I heard people speak about your amazing voice on the day - You are a true professional and an absolute pleasure to do business with and such great value for money. The traditional music was so lovely - thank you !You take such an interest in the couple and what they want and we felt so much at ease when we spoke to you - we would have no hesitation in recommending you to anybody and thank you for making our wedding day mass so special.

Brenda sang at our wedding and we found Brenda extremely professional, obliging, understanding and caring on the run up and on our wedding day. She gave us such a range to choose from and guided us through everything. Brenda's singing on the day was amazing. All in all we couldn't have asked for anything more. Thank you Brenda for everything which made our day an even more special one.

Brenda recently sang and played at our wedding. We were absolutely delighted with how everything went on the day. Brenda has a beautuful voice and is a true professional and couldn't do enough to accomodate us. Brenda has a fabulous versatile voice and sang both modern and classical pieces for us - and made our day very very special. Many of our guests commented on how much they truly enjoyed Brenda's singing. I would without hesitation recommend Brenda.

Brenda, Would just like to thank you for your wonderful performance at our wedding ceremony on the 19th nov in ardagh church Ballina you were absolutely wonderful and all my guests thought so too. Thank you for helping me with the song choices etc it was truly the best day of our lives!