Design Your Moments – Designer Keepsakes & Cake Toppers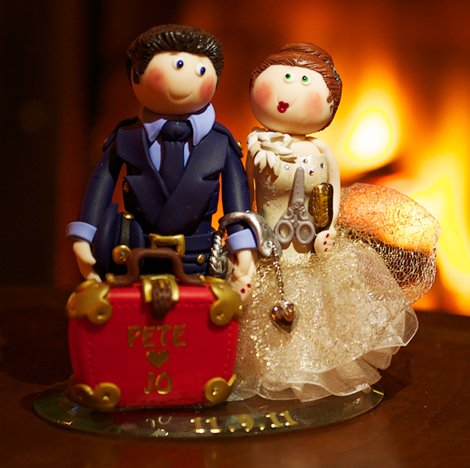 Supplier Details
Hand-Crafted Personalised Wedding Keepsakes & Cake Toppers -  Exclusively Designed for You and Your Loved Ones!
Are you looking for the top of the range, uniquely personalised keepsake or surprise gift for your husband or wife to-be?
Design Your Moments create exclusively designed keepsakes characters of our clients incorporating simple details such as their wedding attire, hobbies, occupations, family, kids, pets, sports to make for added elegance, imagination and fun! DYM's are mimicked to your specifications, down to the smallest details. From Swarovski crystal embellished dresses, hand-painted lace, nail varnish, blush and lipstick to the Swarovski cufflinks, earrings, engagement ring and most importantly, the wedding rings can be replicated!  
Our clients also use their self-designed DYM characters as a show stopping self-designed cake top on their big day! A fabulous addition to your cake or as a show-piece alone! Not only that, but we can recreate the magical moments in your life, such as your engagements or where you met, with the addition of vehicles, machinery, in a ceramic scene setting to showcase and treasure forever after your wedding day has past!
Blended together with talent, skill and lots and lots of care, we, together create your very own designer keepsake or cake topper, exclusive to you, creating a little elegance or novelty with individual personality to each of your moments in life. So why not sprinkle a little added magic and sparkle to you or your loved ones occasions by creating a personalised miniature character of themselves!
DYM Classic Pieces start at €100 ex courier - Bespoke Couples & Scene Settings require a quotation - We deliver to NI & ROI!
Please order anything from 3-12 months in advance but please call as late orders can be facilitated! __________________________________________________________________________________________________________
If you have any enquiries, please feel free to call me on the below number.
+353 (0) 87 415 5287
Testimonials
Hi Kerry, Just to say thanks for making the piece. It went down really well. Greg absolutely loved it. I will def be spreading the good word about you. Great customer service and a great product.

Hi Kerry, Just wanted to drop you line to thank you for the perfect cake topping. It was perfect and a great hit at the wedding. Everyone was talking about it. I was a close friend of the family that organised it but your design was brilliant. We hadn't a clue until we seen the cake on the day. Thank you so much. You are one very talented lady!!!! Wishing you the very best.

Hi Kerry, thank you so much for our beautiful keepsake. We just love it! Everybody at the wedding was raving about it!!! The detail you were able to recreate was amazing & tied in perfectly with our winter wonderland theme. I loved all tiny little snowflakes, the flowers, my signature red nail polish & especially, giuseppe our wee dog! It now sits pride of place on our window sill. Cheers,

What can I say..AMAZING WORK! Kerry made an out of this world cake topper 4 my wedding in April! The detail in it was far more than I ever expected. I'm a teacher and my husband is a lorry driver and Kerry incorporated both elements of our jobs into our special piece. Our guests have been commenting on our piece ever since!!

I was lucky enough to get one of these as a gift for my wedding and couldnt believe it when I saw it. It was the nicest present I ever received and really made my day! I got loads of great comments about it all day long! I would highly recommend!