Kerry Harvey Freelance Bridal & Photographic Makeup Artist M.A.C Specialist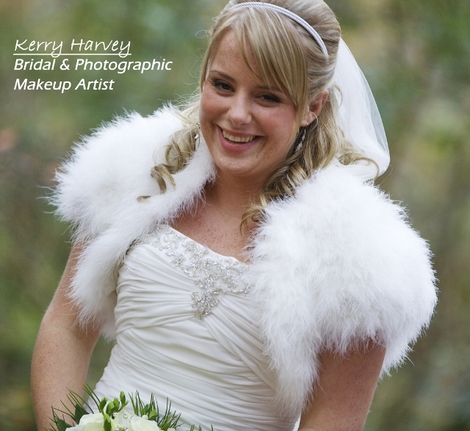 Supplier Details
Specialising in:
Bridal & Special Occasional Makeup
Photographic Makeup

Available also for:
Grooms Party Makeup i.e. Mother, Aunts & Sisters of the Groom.
Hen Parties,
Girls Night Out/In

My Service…..
I provide a professional & mobile service with the aim of creating a perfectly flawless look for your particular style and taste for every occasion. You're free to relax and enjoy yourself on the morning or evening of your special occasion whilst being pampered in style!
Kerry X

My Kit…..
My makeup kit consists of MAC, Nars, Laura Mercier, YvesSaint Laurent, Chanel, Lancôme, Benefit, Estee Lauder, Clarins, Smashbox, plus much much more.....all the tricks of the trade& hypoallergenic, with something to suit every skin type.

Note: A Trial is Required for all Bridal Bookings.
Call Kerry on +353 (0)874155287
Services Available Donegal & Nationwide
Testimonials
Kerry, Thank you so much for all your work and patience on my wedding morning. I was so nervous and hadn't slept a wink the night before as you know. You made me look fabulous and relaxed the whole situation. In my pictures, I look as if I had the best nights sleep ever! Thank god for you and your makeup! Definite recommendation from me to all here in Belfast.

Hi Kerry, Thank you for making us all look and feel fabulous on my wedding morning! It took the pressure off not having to leave the house and all the girls loved you and your work! Christine will be booking you for her upcoming wedding as we we're all very impressed!

Kerry, I can't thank you enough for all you did for me on my wedding morning. Every one of the girls looked more than fabulous and you were so brilliant with all the touch-ups from me crying about my hair disaster! I was devastated when it started to come loose and fall down! I couldn't believe my luck when you pulled out another bag of tricks with hair bits and bobs and fixed my hair! You don't know how much that meant to me! You're one multi-talented girl and I'll 100% be telling everyone about you! Thanks a million honey

Kerry, Just a wee note to say thanks a million for making my wedding morning so relaxing. Each of the girls, mammy and myself really enjoyed having our makeup done and we all looked fab! I just saw our pictures today and the makeup was perfect! Wishing you well for the future and I'll certainly be passing on your details as you were a pleasure to deal with

Kerry, Great morning! Brilliant makeup and it didn't move the whole day! I vaguely remember touching up my lips at 4 in the morning and my face was still perfect! See you next summer for Emily's wedding morning...can't wait
Contact Details
Clar Rd
Donegal Town
Donegal
Contact name: Kerry Harvey
Phone: +353 (0) 87 4155287
[email protected]

Interact