iDo Weddings Malta - Wedding Planner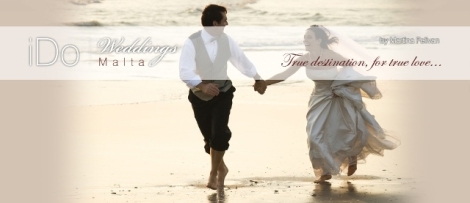 Supplier Details
For a special wedding that outshines all other, there's no place like Malta. It is fairy tale beautiful and romantic, the perfect backdrop for an event as significant as the start of your life together. You will fall in love with Malta, just as you've fallen in love with each other.
Creative and highly organized wedding planner Martina Pelivan, and her team at iDo Weddings Malta will help you plan a wedding in Malta that is unique, memorable and above all stress free.
We know all the local venues and service providers. We're able to offer creative suggestions to make your wedding uniquely yours, and we can negotiate the best deals for you with vendors. We'll work within your budget to create the wedding of your dreams.
From the moment you delegateplanning to us, you'll feel like a huge burden has been lifted from your shoulders. You'll stop stressing over the details, you'll breeze trough preparations and, at the wedding, be able to enjoy festivities along with your guests.
iDo Weddings Malta looks forward to helping you plan your wedding on this island paradise.
For more detials you may contact Martina by Email to [email protected] or visit our website www.idoweddingsmalta.com