Italian Love Weddings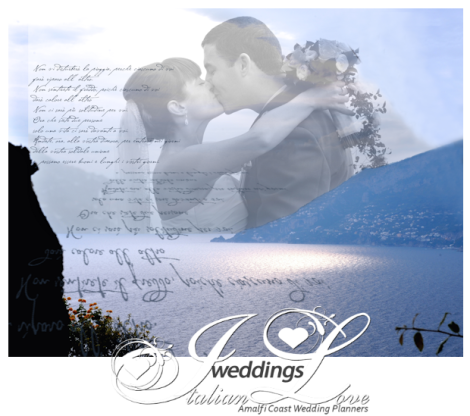 Supplier Details
At Italian Love Weddings, we are specialists in providing a first class wedding planning service for your dream wedding set along the breath taking Amalfi Coast in southern Italy.
Italian Love Weddings is the result of a beautiful friendship between a past bride & wedding planner. Suzanne & Mena now work together in planning every detail of your "Italian Love Wedding", ensuring the most special day of your life is full of the joy and happiness you deserve on your wedding day. They are dedicated to fulfilling your needs and making your dreams come true!
Every bride has a different yet specific image of their wedding day, and at Italian Love Weddings we can guarantee the vision you have will become a reality.
If you wish to have an intimate wedding by the sea, or a grand affair in a stunning villa perched high along the coast line, we can give every bride their heart's desire by working together to achieve your every wish on your special day.
Suzanne & Mena offer unlimited hours of work & a strong attention to detail in all that they do. Suzanne is based in Dublin and is free to meet for a consultation to talk you through the process and offer support and further information. Mena is based in Amalfi, and is available to meet to show you potential venues, churches, accommodation options, photographer's studio and everything else that you require for your wedding day.
We offer all services, including but not limited to:
Religious, civil & symbolic ceremonies
assistance with paperwork & legal documentation required
music (both during the ceremony and evening entertainmentif required)
photographer
unlimited hours of work including research, price negotiation on your behalf etc.
wedding planner present to assist you and your guests on your wedding day
Every bride deserves the most memorable wedding day surrounded by family & friends in a beautiful and comfortable setting. We promise to ensure that you and your guests will treasure the precious memories of your time in this stunning Mediterranean coastal beauty spot, for many years to come.
Let Italian Love Weddings organise your wedding day to alleviate the stress that comes with planning a wedding abroad, so that you are free to enjoy the time with your soon to be husband, family & friends!
To start planning your dream wedding, please email [email protected] or [email protected] for further details.
Testimonials
We want to thank you so much for everything you have done for us. Where to begin!!You have helped change our lives for the better, we are very, very grateful to you. You are a wonderful, kind, thoughtful and very pretty lady (so Eamonn says!). You deserve wonderful happiness with your husband and beautiful son. You are never far from our thoughts or our hearts and we will definitely see you again in beautiful, almost heavenly Maiori...and maybe even in Ireland one day in the future. Lots of love always

Thank you so much from the bottom of our hearts for all of your wonderful work to make our dream wedding come true. Our wedding day was fantastic both for us and our family and friends, and that is all down to you. We will never forget how hard you worked, how kind you were and we will be forever grateful. With love

We are back to England and we still miss Amalfi so much!! We want to thank you for all of your work. You have done much more than we have expected!! Many thanks again,

Please accept this small card as a sign of our appreciation for all of your amazing, hard work that you have done for us over the last year. You have been so patient, so kind and so helpful. Thanks again for organizing our wedding day... we will remember you for the rest of our lives.

Planning our wedding with you has been a fantastic experience and on the day we didn't have to think about a thing. You took care of every detail and we were left to have the time of our lives. You had become one of our close friends and we were so honoured to have shared the day and the entire experience with you. With much love