Veil Off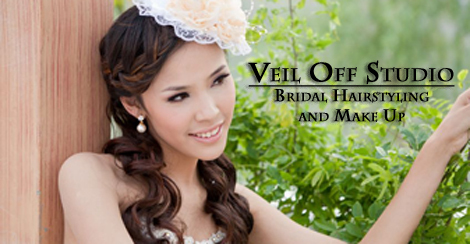 Supplier Details
The most important elements for the Bride on her wedding day are to look elegant and flawless. This is achieved with the use of an expert Hair and Make-Up Artist. It's your wedding day and therefore the aim is to let your own natural beauty shine through.

The Hair and Make Up design for a Bride is completed in two steps; the initial trial and the actual wedding day.

The Trial

The best time for your trial is eight weeks before your wedding day. This allows us to discuss everything from the style of the dress, the colour scheme to the look you wish to create. Victoria will be able to recommend the best Hair and Make Up style for you taking your dress and theme into consideration. The trial usually lasts three to four hours. By the end of the trial we will have established the most suitable look for your wedding day. Once you are happy with the Hair and Make Up we will document everything to avoid any stress on the day of the wedding regarding the look you desire.

The Wedding day

After all of the months of preparation, your wedding day is the time for you to sit back and relax. Let someone else take over the work. Getting your Make Up and Hair done is enjoyable and calming; the perfect way to unwind before you say "I do"!

On the day of the wedding I will travel to the designated venue or your home where you are getting ready and I will stay with you until you leave to make sure you look perfect and feel confident before you walk down the aisle. I allow at least two hours for the Bride's Hair and Make Up. This is to ensure that we are not caught for time if any interruptions occur.

If there are other members of the Bridal party also having their Make Up done then I will work to a pre-arranged schedule in order to create a relaxed atmosphere on the day.