Entourage Wedding Band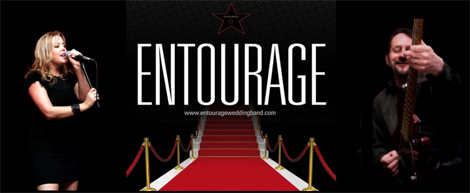 Supplier Details
5-piece All Live, Band - 4 guys, 1 gal - all the hits!! From Rihanna, Lady Gaga, Kings of Leon, Journey, Queen, Bruno Mars, Jessie J, to Joe Dolan, Abba, Elvis, Dolly Parton, Beatles & Many More !! - see website for photos, audio samples, sample setlist.
Jenny: 087-2667937 / www.entourageweddingband.com / [email protected]
Church music - Jenny incl music from €300 - (see website for details, audio sampes, photos etc) Decoration Package - Wrought Iron Candelabra package from €595 (all details, photos on website)
Jenny: 087-2667937 / www.elegantweddings.ie / [email protected]
For bookings with Entourage Wedding Band "Or" Elegant Weddings pls contact Jenny.
AUDIO SAMPLES ON BOTH OF OUR WEBSITES WWW.ENTOURAGEWEDDINGBAND.COM  & WWW.ELEGANTWEDDINGS.IE
Testimonials:
"Just wanted to drop you a line as we never got to thank you and the others on the night of our wedding. We had an amazing night and cannot express how thankful we are to yourself and the rest of the band. you were all truely amazing. Our first song was unbelievable, thank you so much for learning it and doing such a great version. Our guests are still talking about you all, almost a month later! A very special mention to your female vocalist here, her versions of Lady Gaga and Pink went down a storm, people were amazed by her voice, and could not stop talking about her, she is unbelievably talented!! We're so happy we chose to go with ye, you made our night absolutely perfect, the music was spectacular and the choice of songs to suit all ages was exactly spot on. Our only complaint was running out of energy at times to be able to dance to all the amazing songs!!
We had the best night of our lives and we really are so grateful to you all for helping us do that and being part of our wedding day. We'l be raving about you for many years to come!! We'l definitely be recommending you to anyone getting needing a band for any occasion!!
Once again, thank you so much for everything and we hope to see you at many more weddings we attend in the future. Best of luck to you and the band always."
Dorrie and Ken
"A Fantastic Party. Just a quick note to say a big thank you to you all for what was a fantastic party on our wedding night. The guests were all raving about you guys and how they had never been at a better wedding and that the music was a big part of that."
Wesley & Lisa
"Superb, Brilliant, Top Notch. On behalf of my wife and I would like to take this opportunity to Thank You and all the band members of Entourage. Superb, Brilliant, Top Notch, Entourage were fantastic, absolutely spot-on, right music from the right band. Entourage managed to encapsulate the the atmosphere from the wedding into the night with the right choice of music. From the offset you really got the crowd going and the dance floor was never empty. Only some of the remarks I heard afterwards. I would recommend Entourage to everyone. Thanks for making our Wedding Day even more memorable".
Sean and Linda
"Music to suit all! Thanks very much for the other night. You were bang on about your mix of songs. There was music for young and old. Thanks to the DJ too."
Dennis and Anita
"Cheers Entourage! Our wedding day was so special for both of us, and we hoped that all our guests would enjoy the day. Entourage really got the crowd going all night and the dance floor was never empty...there was something to suit all ages groups. So many of our guests commented on how good the band were and how much they enjoyed the music. Thank you Entourage for helping to make our wedding day so memorable."
Sandra and James
"Cheers Entourage! We had a brilliant night there was music for everyone and we felt really special"
Joan and Mark
"Great music for whatever occasion. They say your wedding day is the best day of your life and certainly for me it was . . . this wouldn't have been possible without the great entertainment we got from our band Entourage. I would (and have) highly recommend them to anyone of any age looking for great music for whatever occasion."
Sharon and Philip.
Testimonials
Hi Jenny and band.Honeymoon over and back to reality.Thanks for a terrific set for our wedding on MARCH 16TH.The floor was heaving all night have had loads of people asking where we got ye.Was proud to say you were from my own backyard.You had your finger on the pulse all through was worried we would have to send for the paramedics at one stage..all that perspiration and steaming heads.You really made a brilliant day all the more memorable.Thanks again and good luck in the future.