The Eden Singers – Vocal Group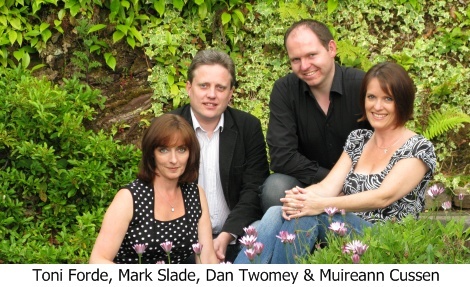 Supplier Details
If the idea of a group singing at your wedding appeals to you, then The Eden Singers are for you!  They are a four part harmony group made up of Soprano (Toni Forde), Alto (Muireann Cussen), Tenor (Dan Twomey) and Bass/Organist & Pianist (Mark Slade). They have a large repertoire of pieces ranging from the 16th century to the present day.  They have experience of singing at church ceremonies, civil ceremonies, drinks receptions and corporate events.  They are happy to meet with the bride and groom in advance of the wedding to suggest and advise on suitable pieces for each part of the ceremony - and, of course, will try to facilitate any special requests!  A visit to their website is highly recommended for a full range of what The Eden Singers has to offer any couple getting married.
For more information contact Muireann on +353 (0)87 6304635 or Dan on +353 (0)86 3517193.
You can email us directly on [email protected].
Also, you can view us on our website on www.edensingers.com
Testimonials
"Myself & Frank would like to take this opportunity to thank you all as a group for the most fantastic performance of singing at our wedding in both St. Patricks Cathedral Armagh & in the Westenra Arms Hotel, Monaghan afterwards. Your singing was amazing in the Cathedral. It was so harmonious it seemed there was a choir of 20 people. Your professional approach was second to none and helped make our day so special. We would highly recommend the Eden Singers for weddings or any type of event."

"On behalf of everyone at McKesson I want to thank you for your wonderful music on Friday last 15/4/2022 at the Carlton Hotel, it certainly set the tone for a wonderful evening."

"We're just emailing to say how much we appreciate the outstanding performance you gave at the Honan on Friday. You set the tone for what was a fantastic day for us. Personally I really enjoyed the way you performed 'Into My Arms'. Virtually every guest at the wedding mentioned that your version of the 'Ave Maria' was incredibly good. If there is anything we can do in terms of recommendations etc, we would be happy to oblige. Thanks again"

"We booked the Eden singers for our wedding in July 2010 and could not recommend them highly enough. We met the group the first time when we were choosing our music for the Church and found them very helpful and knowledgeable, helping to ease what could have been a stressful experience. On the day the music was beautiful and all our guests and the Priest who performed our ceremony all commented on how excellent the music was."

"Thank you so much for enhancing our day, and making our ceremony so special. We could not believe the sound that such a small group made, and all our guests were commenting all night about the wonderful music at the ceremony. Thank you once again."