The Style Suite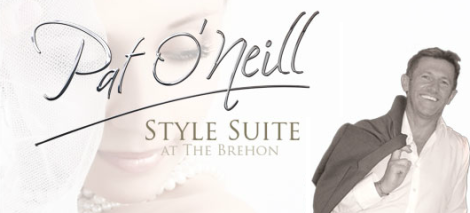 Supplier Details
WeddingsOnline Awards Winner Bridal Hairstylist of the Year 2012
As a bride to be, you are invited to relax and unwind in the beautiful surrounds of this exquisite suite, enjoy a glass of chilled champagne and dream...The Style Suite has been created to help bring your Dream Day to life.
You and your bridal party will enjoy a personal and attentive service from the beginning to the end of your special journey. In your initial consultation, Pat will ascertain your preferred styles and together you can discuss what works best for you. A complete pre wedding 'Style Run' will be undertaken.
For your added comfort and convenience, a wedding day make up artist will be at your disposal and we can also arrange treatments for you at the heavenly Angsana Spa.
Pat O'Neill has been blazing a trail in the hair industry for the last 27 years. He is constantly creating, challenging and changing his styles, while retaining his trademark attribute of client care.
Testimonials
Soon after I got engaged I booked Pat for my wedding hair.It was one of the first things I booked but it was something I always took for granted I always assumed I'd would do well before I had any prospect of getting married! Pat has known me since I was a toddler and gave me my first hair cut so it was extremely fitting he would doy hair on my wedding day.It's 100% true about Pat being more than a hairdresser.He does so much more than that,calming everyone on the morning, making jokes, answering questions and matching accessories to the dress.Even advising on how to hang the dress a few days before the wedding so the wrinkles fall out! I trusted him more than my mom and bridesmaids to make sure I was fixed into my dress properly!! Pat is amazing and gave me a hairstyle that matched my style of dress and personality.He made our morning really special and I am so happy he was part of the day.

Pat is genuinely gifted! He creates a style that exceeds expectations. I would highly recommend the Style Suite in the Brehon in Killarney. In a word brilliant! Well done on this achievement Pat, its certainly most deserved.

"What can I say that will truly give justice to this man. When I got engaged there was no question in my mind who I was going to book to do my hair. In fact I would have been prepared to change the date just so I could have Pat! Thankfully that didn't happen. From the very first booking, Pat was totally on my wavelength , relaxed, calm and cool, nothing is too much trouble and always so obliging when needed. I did not have any stress over what style I wanted for the day or for my girls. I trusted Pat vision and style so much that he had free reign to work his magic to us on the day. And work his magic he did. I cannot express my gratitude and thanks to Pat for all his work on the day, from making us all feel relaxed, to popping champagne and fixing my shoes. Its the little things that make a day so special and its one big thing and his name is Pat! Thank you so much, I had the most fun I ever imagined and you were so most certainly instrumental in creating that for me. xx Claire. " 

Pat O'Neill is more than a hairdresser, he is a brides everything! A real must have. I had a few trials done with other hairdressers and left not only unhappy but very stressed. I called Pat who reassured me everything would be grand and told me not to worry. When i had my hair done with Pat i had the most amazing experience! He is truly gifted. Not only is he a magician with hair but he is funny, relaxing and you really do get the most wonderful experience at The Style Suite. I can not recommend Pat highly enough.On the day of my wedding Pat could not have done more for my bridal party. I had 2 different hairstyles which needless to say looked amazing. My brisdemaids and family looked awesome and were all thrilled with their hair (which i may add did not move all day/night).As well as being fabulous with hair Pat rescued my bouquet, fixed my veil, loaned me a tiara (i misplaced my own on the day) and fixed my wedding rings onto the flower girls pillows. He did all this in such a calm manner and with a big smile.If there was such a thing as a Bridal Godfather... that would have to be Pat.
Thank you Pat you are simply the best!!