P.A.N. Digital - Wedding Videos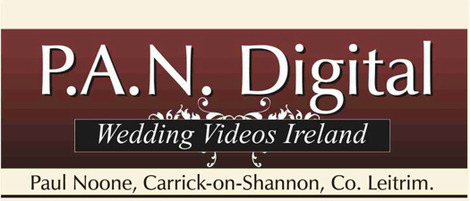 Supplier Details
P.A.N. Digital video productions is run by Paul Noone a professional videographer who prides himself on being unobtrusive on your big day.
P.A.N. Digital uses the the latest technology for filming and editing. Your wedding video comes complete with motion titles and easy to navigate chapter menus.
Our professional video, will capture every detail of your wedding day in High Definition.
PAN Digital covers Leitrim, Roscommon, Sligo, Longford, Cavan, Mayo, Galway, Donegal, Westmeath, Fermanagh, Offaly, Meath, and surrounding counties.
Please check out our website to see other examples of our work.
Testimonials
Paul we would both like to thank you so much for the superb wedding dvd. You made us both feel relaxed on the day which was great and at times we didn't even realise you were there. It was great to relive the day and see things which we had missed on the day! Thank you so much for everything.

Just a quick note to say how happy we are with P.A.N Digital Wedding Videos. From the first day we met with Paul we felt totally at ease from the professional manner in which he treated us. Anything we wanted was no problem and he also gave us some great advice and tips regarding our big day. When the day itself came around we hardly noticed Paul at all and when he captured so much detail we are amazed we didnt bump into him more!! Even at one point watching the dvd at home and Niall commented 'Was Paul still there for that?' All the little details we didnt notice on the day were just beautiful on the dvd. We love how Paul made sure to capture everyone at the wedding on the dvd and we know when we look back at it in years to come, that will be one thing we will cherish. We will definitely be recommending him to all our friends who are getting married. Thanks Paul for helping in making our day stress free and so special!

Thank you so much for our fantastic wedding DVD. It has helped both of us to fill in the bits that we missed on our big day!! Thank you for putting us both at ease & for capturing all of our quests so well. We really appreciate the time you gave us to discuss all the details of the day. Wishing you every success for the future, you really deserve it. With our thanks,

Paul, we would just like to say a HUGE thank you for our wedding dvd. The soundtrack and quality of the dvd is superb-something everyone who has watched the dvd has remarked upon and having the highlights available to view so soon after the weeding was a lovely surprise! For the most part, we didn't even realize you were there, you were so relaxed and subtle-and made us feel the same. You have a super eye for detail and you captured every important moment, including lots we wouldn't have seen but for the dvd. It's great to have all our memories on DVD

Paul I'd like to say a big thank you for your wedding dvd. You did a fantastic job and family and friends have really enjoyed watching it. Everybody has commented on what a fabulous job you did, from the quality of the dvd to the music you choose to accompany it. On our wedding day you made both Karen and I feel really comfortable. Your friendly personality and professional manner put both of us at ease on and prior to our special day. You managed to capture all our special moments in such an unobtrusive manner. I'd like to thank you again on behalf of Karen and I.

"Paul, what can we say, from tip toeing round the brides house to catching the late night madness on the dancefloor.. you really managed to capture each and every moment wonderfully while somehow blending into the day unnoticed. The DVD is everything we hoped it would be and more. Thanks so much!"

"On behalf of Fergal and myself we would like to thank you sincerely for the wonderful job that you did on our wedding video. The service that you provided on the day was excellent from beginning to end. We nearly forgot you were in the house on the morning of the wedding as you were capturing all our moment. It was extremely unobtrusive which made me feel really comfortable. We also appreciate the help and advice that you gave us on the day. We didn't have to do a thing. We were extremely happy with the coverage of the wedding. Every single guest at the wedding appears on the video, which we were happy about. The footage was all very natural and really captured people enjoying the day. Nobody even noticed you there capturing it, which is exactly what we wanted. There was nothing at all that you missed out on. It was great to look back and see parts that we didn'tsee on the day. Apart from the actual video itself we would like to thank you for been such a pleasure to deal with on the day. You really put us at ease and make the whole thing very enjoyable. Some of our guests since commented how friendly you were to everyone on the day. We really enjoyed the highlights of the day which you had up on your website 4 days after the wedding. This clip even made its way to Australia. It was lovely while we were on honeymoon to pop on to the web and see it so quickly. We were delighted to receive 3 copies of the DVD and we were really happy with the way you personalized it and presented it. It was extremely professional. Overall we are extremely happy that we choose you to capture our special day, we couldn't have asked for a better wedding DVD and overall you were an absolute pleasure to deal with prior to the wedding, on the day and after the wedding. I will definitely be recommending you to future family and friends getting married. Thank you again and I wish you every future success with P.A.N Digital

"Paul, thank you so much for the superb wedding dvd. Patrick and I are both thrilled with it and could not have wished for anything more. It was excellent to relive all the parts of the day and to get the chance to notice things we didn't spot on the day!!! I was amazed at the final product considering your low key presence during the day which helped us both relax and enjoy ourselves. Thanks again for capturing our wedding day in such a special way, Shauna and Patrick."