TWI Textile Machinery & Fabric co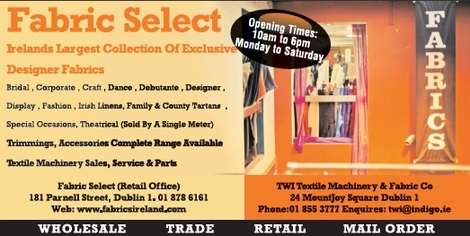 Supplier Details
TWI are Ireland's suppliers to the textile and clothing & manufacturing industry with trade links worldwide.
Whether you are a textile producer, design studio small rural clothing firm Domestic work-shop, TWI International can meet all your requirements, "from cutting room to catwalk". TWI Office & Stores in Dublin is the nerve centre of a unique Supply Service International Designer Fabrics Bridal -Cocktail - Craft - Debutante - Designer - Display Fashion - Furnishing - Theatrical - Special Occasion Irish Linens - Irish Tweeds - Irish County Tartans
TWI International also offers its customers a wide range of services, Inc Sewing - Cutting - Pressing - Machinery Service & Parts
A visit to our Dublin showrooms based in Dublin's historic Mountjoy Square, is a must.

Adjacent to (Croke Park) the city centre and provincial rail and bus terminals. TWI International can supply all your needs, no order to big or small. Let our expertise, knowledge and world-wide contacts be your strength.
FABRIC SELECT
181 Parnell Street Dublin 1
E/Mail:[email protected] Phone: 01 878 6161 www.fabricsireland.co
Fabrics For Perfect Occasions
Designer Fabrics @ Affordable Prices
Bridal - Cocktail - Craft - Debutant - Designer - Display
Fashion - Furnishing - Theatrical - Special Occasion
"View Our Exclusive & Extensive Range Of Fabrics "
From Our Sample Books Sold By a Single Meter
Trimmings
Buttons - Bindings - Fasteners - Craft - Elastic - Cords - Needles - Pins
Ribbons Ribbons - Threads - Yarn - Webbing - Velcro Zippers
Machinery
Sewing - Cutting - Knitting - Pressing
Inc: Sales Service Needles & Parts
For All Makes & Models
Whole Sale Dept
TWI Textile Machinery & Fabric Co
24 Mountjoy Sq Dublin 1 Phone 01 855 3777
WholeSale - Trade - Retail - Mail Order
Discount: Supporting Designers - Fabric Shops
Dress Designers
( Request Your Discount Card )
OPENING HOURS: 10.30 - 5.30PM MON - SAT