Up-Style Junkie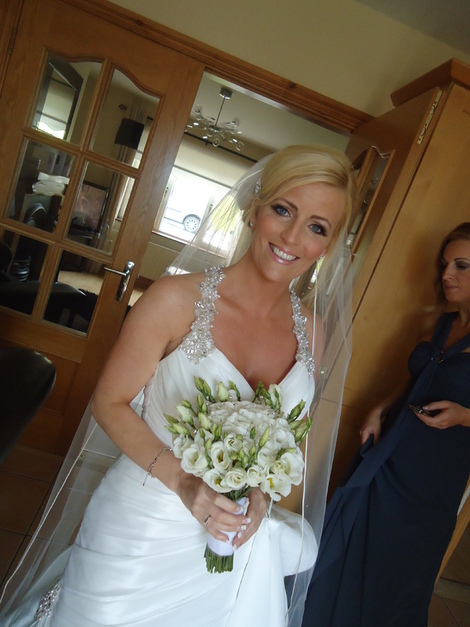 Supplier Details
My philosophy is to combine the best products and attention to detail in my work with kind and considerate customer service.
I make a simple promise to all my clients - I will give you a look you will love. Whether I am styling you and your bridesmaids on the morning of your wedding, for a ball or party, or for any other occasion, I will ensure you are 100% happy with your look.
I have enjoyed working with many a blushing bride, perfecting the look and making sure that all stays calm and relaxed, I can create different make-up looks from glowing to dramatic and with your hair I can create classic to contemporary or fixed to soft styles.
I have over 16 years experience and understand the importance of achieving a look that is personal and individual to each and every bride on her special day. Your photos will prompt your memories and I believe your hair and make up is almost, if not, just as important as your dress.
I only use the most exclusive and luxurious make-up and hair care in the world on my clients. My preferred brands include MAC, Laura Mercier, Dior, Nars, Giorgio Armani, Bobbi Brown, Aveda, L'Oreal, Redken and Tigi.
I offer a friendly and professional service in the comfort of your own home or chosen venue for trials and on your wedding day to ensure your preparation is hassle free and enjoyable.
Testimonials
From the moment I requested a trial from Audrey she was very polite, courteous and professional. She always made sure I was happy and comfortable and had lots of ideas and was willing to try out any ideas I had for my hair and make-up and that of my bridesmaids, when the big day finally arrived she was very professional and a calming influence on me, I would strongly recommend Audrey as everyone at the wedding commented on how beautiful my hair was and how beautiful all my bridesmaids looked. Thank you Audrey for helping to make my day a special one.

Audrey can I just say thank you so much for all your help at Elaine's wedding. You totally went up and beyond being a hairdresser, I will never forget what you did for us. We all loved our hair, Elaine's hair was outstanding and didn't budge for the day.

What a gifted stylist!My hair is generally a complete messand I despaired of finding somebody talented enough to make me look well on the day, but I shouldnt have stressed. Audrey had me looking like I stepped off the pages of a magazine. I'm still smiling at peoples reactions and comments!What an artist and what a genuinely lovely girl.

Thanks Audrey for such a wonderful experience the morning of my wedding, you were so open and friendly to all of us, it really put us at ease. You really listened to what we wanted and then exceeded all our expectations. The hair was fantastic, it lasted perfectly all day and the curls lasted into the second day. Your amazing!!!!

Audrey, thanks so much for doing our hair and make up (and all the other help and advise you gave us!!) for our wedding. Myself, my bridemaids, flower girl and mother were absolutely delighted with it and got tonnes of compliments!! You are a gem xxx

Hi Audrey ... Just to say thank u so much for all your help on the morning of the wedding .. Not only was the hair absolutely fantastic but u went above and beyond for us ... My hair was commented on by so many people ... It was Hollywood standard!!! We really had a ball ... Thanks again xxx

Audrey I could not recommend you highly enough thank you so much amazing at what you do and a lovely person as well x

Audrey, we can not thank u enough for yesterday, your hairstyling is amazing, you put all of us at ease and made my sister (and us) look amazing for her big day.x

Audrey is fabulous, she's brilliant at her job and really friendly, she makes you feel at ease on your big day- she's what every bride needs the morning of her wedding . x

Thank you so much for the wonderful job you did on our hair & make-up

Since Audrey has been doing my hair its in way better condition I love the colour and her blow dries. The best hairdresser I have ever had.

Audrey did my hair for my single launch and I loved it! It was a series of little braids and pony tails all put up in a messy/cool way. Loads of people admired it on the night! Thanks Audrey!