Kids Magician - Magic Carl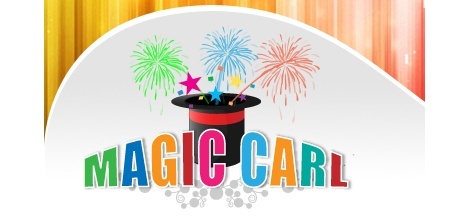 Supplier Details
Kids magician at a wedding" why not have Magic Carl the magician entertain the children at your wedding during the speeches. Weddings are a long day for children attending and an entertainer can help give the children a nice break from the long day and also give the parents a bit of break. MagicCarls show is full of cool magic tricks, audience participation and a real magic rabbit. Carl also is a highly skilled balloon modeler and will make each child at the magic show a balloon model at the to take home. Check out the website at www.magiccarl.ie for more info.
Carl Campbell (AKA Magic Carl) is a Dublin based full time Kids Magician. Carl and his magic rabbit Mr Fluffy perfom magic shows all around Ireland every week. Magic Carl's show is a high energy, funny comedy magic show suitable for children of all ages. Carl's Kids Magic Shows is full of audience participation, magic and illusions. In fact, the birthday child helps the magician makes Mr Fluffy appear at the end of the party. Magic Carl's skills are in high demand in fact he recently performed some magic for Jedward in Dublin, celebrating the opening of Browne Thomas's Santas Grotto in the Grafton Street store. Why not give the gift of magic today to your child and book Magic Carl and make it a party to remember.

Magic Carl the Magician makes childhood memories for a living, he will also provide sensational magic in your home where the birthday child becomes the star.
He ensures-
Professional Service
An amazing fun atmosphere
Massively entertaining performances
Jaw dropping magic
Delighted guests
Relaxed hosts
A STRESS FREE solution to your entertainment needs