Shay Curran Wedding Photography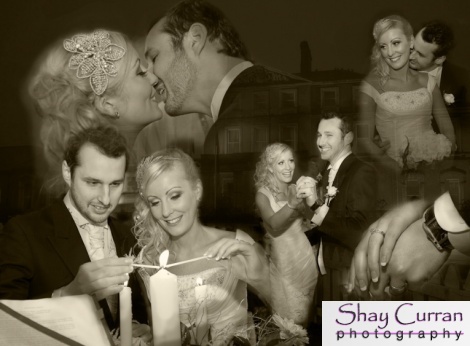 Supplier Details
Based in the heart of County Kildare - Athy, Shay Curran Wedding Photographer covers Ireland, especially Kildare, Dublin, Kilkenny, Meath and Louth, and southwards to Carlow and beyond, including Counties Laois and Wicklow. So whether you live in Athy, Naas or Newbridge, Kilkenny, Portlaoise or Carlow or further afield, consider Shay as your local wedding photographer!
Shay, a full time professional wedding photographer, specialises in Wedding Photography, portrait and family photography (pets included) with the emphasis on superb quality at affordable prices. Weddings start at just €595 including an attractive coffee table style album.
Wedding styles catered for include Traditional, Photojournalism and Contemporary. Civil and Religious ceremonies are equally welcome.
The finished photographs can be supplied in superb colour or traditional black & white, on DVD/CD, digital albums or exquisite leather bound albums, coffee table albums or eye-catching canvas prints in a range of sizes to suit most pockets.
Whatever the occasion, be it a Communion or Confirmation, a new baby, Baptism or Wedding Photography give Shay a call on 045-520530 or use the contact form, for a down to earth, affordable quote.
Testimonials
I trawled through a hundred wedding photograpaher's websites before I found Shay's. I liked what I saw on the website, so we arranged to meet at the venue. Now, it turns out Shay Curran is so laid back he's almost horizontal, which suited me perfectly. But - brides and grooms of Ireland - the most valuable thing about Shay is that he listens. This was particularly impressive because I didn't really know what I wanted, I only knew what I didn't want, but he absoluetly nailed it on the day. The pictures were fantastic. We didn't get a video taken on the day and with Shay's pictures we really didn't need it. He captured it as it happenned, and he captured all our guests as they really were on the day. He was mindful of the fact that I hate posed pictures, so on the day he didn't ask too much of me, and most of the time I barely knew he was there.
The pictures were fab, everyone went mad over them because no one had really seen that style of wedding picture before. Top notch photographs by an excellent photographer, this is the guy you want. Can't wait to get the album.Shay - thank you for the best wedding pictures we could have hoped for.