Petite Fleurs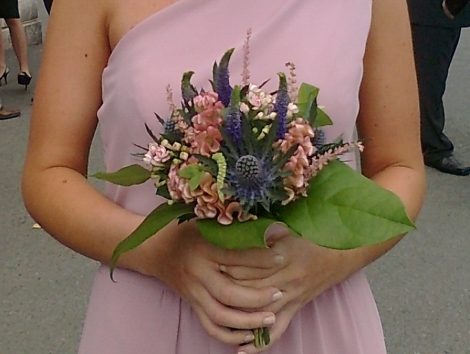 Supplier Details
Petite Fleurs are dedicated wedding flower specialists whose goal is to provide you with a first class professional service at affordable prices.
We understand that getting married is one of the most important events in your life and we believe that your personality should shine through on the day and this can be achieved so wonderfully through your choice of wedding flowers.
Each wedding is unique and therefore each of our wedding creations are specifically designed with you in mind.
We cater for weddings of all sizes and taste, classic or contemporary, and are happy to work with you to suit all budgets.
We work out of our studio in Co. Meath but will travel to all locations within the Leinster Region and surrounding areas to meet the needs of our clients.
For a personal quotation or to arrange a consultation, please email [email protected] and we will be happy to discuss everything flowers!
Testimonials
I was lucky enough to have Theresa do my wedding flowers in March. WOW, what a great job she did. Her ability to interpret a brief is amazing, and her creativity fantastic. Definitely one of the best florists and at great value to seal the deal. Theresa did a fabulous job decorating the church and had it done to a tee. Thank you Petite Fleurs....

When I look at my wedding photos now I just think 'wow' when I see how beautiful the flowers were- before I got engaged I didn't realize how important flowers were at a wedding but going that extra mile really sets the theme and makes everything look more beautiful. Theresa understood exactly what I wanted- she got the theme I was looking for. I was very much influenced by the rustic weddings you see in US wedding blogs like stylemepretty.com where flowers are the most important aspect of the decor. Theresa got the look I was looking for- wild, rustic and pretty. So many florists I met didn't get this! The church was amazing- the daisy pew ends were so different and the venue just blew me away. Theresa was also excellent value which always helpMy wedding highlights video shows the amazing work Theresa did for the church and venue:
http://player.vimeo.com/video/27530145?title=0&byline=0&portrait=0&color=787373

Theresa was recommended to me by another Wollie and did a fabulous job on the flowers for my wedding. I really wanted something small and with lots of sunflowers and the result was just gorgeous, really vibrant colours and beautifully arranged, everyone was commenting on them! Personally, Theresa was a pleasure to work with and a great calming influence around the house on the morning of the wedding!
Thanks so much!

I came across Theresa reading the WOL forums. I was having great difficulty finding a florist with a reasonable price who would cater for the very small amount of flowers I wanted (one bouquet, corsages and a few buttonholes) Quite a few of them dismissed by query altogether or gave me such unreasonably quotes it was not realistic to go ahead...I had made my mind up to do them myself when I came across Theresa...
From the offset, she was interested, willing and extremely reasonable in every aspect. We met, and she just 'got' what I was looking for.I knew straight away I would not be disappointed. We regularly kept in touch in the weeks before the wedding and when she delivered them to my house, I was blown away.Her ability to understand a brief is second to none and I had compliments all day on the perfection of all of the flowers.I wouldn't hesitate in recommending Theresa to anybody for anything. If you are thinking of going with a big name florist, with price to match, I would urge you to consider Petite Fleurs first and you will not be disappointed.I wish Theresa all the very best of luck though with such a talent, she won't need it!

I found Petite Fleur's contact details from another Bride from WOL.She made my church flowers, bouquets,FG flowers and buttonholes. I was planning my wedding from abroad and wanted a florist who will pull out a flower arrangement for me using quality flowers at a price I can afford and who I can trust to deliver what I wanted. Theresa is the perfect florist. I did not meet her until the day of the wedding but she regularly communicated to me through emails and made sure that im happy of all her flower arrangement plans. She is lovely to deal with and is absolutely talented. A guest liked the flowers so much that she picked up the altar/candle arrangement and brought it to the reception to add to the hotel's top table centerpiece. It made the top table more beautiful.

Petite Fleurs did my Wedding flowers (bouquets, button holes, corsages, Church & venue flowers) and the only way I can describe them is AMAZING, they were absolutely fabulous. I wanted a garden, wild theme to my flowers in a variety of colours but knew nothing about flower types or even names, Theresa is a flower genius and I honestly couldn't have been happier, they exceeded my expectations. I am still getting compliments about my flowers and highly, highly recommend Petite Fleurs.