Hair Design @ Home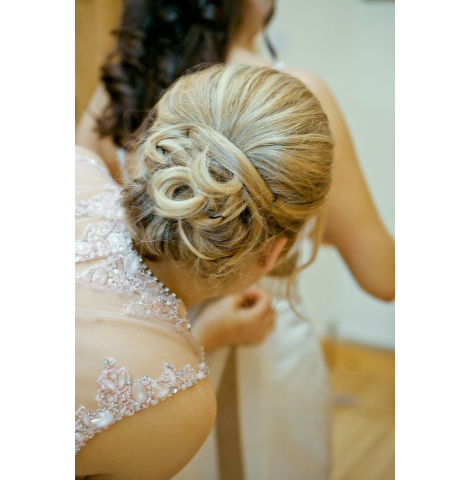 Supplier Details
Hair Design @ Home is a mobile hairdressing company, specialising in upstyling but also covering every aspect of hairdressing (hilighting colouring etc) It is owned by Denise Bray.

Denise has a passion for upstyling , bridal especially. To be a part in such a special day is amazing and Denise likes to keep a calm but fun atmosphere. She will take the time to get to know each individual bride and works on a style to suit. 

She travels nationwide and no time is too early or late. She stays to put veils/ accessories/ last minute sprays in as nothing can be more stressful then a veil not sitting right! 

''take the hassle out of getting to a salon and let me come to you''
Testimonials
Choosing Denise to do your hair for your wedding is going to be one of the decisions you look back on after the big day and think " I'm so glad I did that"!!! Not only is she an extremely talented hairdresser with great vision and skills but she also has the knack of making you feel like you've been friends for years and therefore you feel comfortable in her presence which is really important when someone is coming into your home on let's face it a potentially pretty stressful morning of your life. Denise keeps it calm, lighthearted yet controlled. She does great work and I definitely recommend her.

What can I say about Denise? Well, I think she is just amazeballs!!! Denise was recommended to me by Deborah Curran, makeup artist extraordinaire , who did my makeup on the day, Debbie and Denise team up together and the two of them are just absolutely brilliant. I planned my wedding from the States which was extra stressful but the first time I spoke with Denise, she was so lovely, she put me at ease straight away. My trial was very last minute, just a couple of days before the wedding but I was confident I had chosen the right person to do my hair! You can tell she is passionate about what she does which makes a difference. I had some really good laughs with her, she is so easy going and that helped the 'ol nerves too. I really can't say enough good things about her! Thank you Denise!!

Denise is the most talented and efficient hairdressers around. She realty listens to you and will give sound advice , (like talking you out of getting purple hair), and her talent is evident from the first consultation. I can't recommend her enough.

I can't recommend Denise enough . . . she was fantastic to deal with, had loads of ideas and suggestions and made sure I was completely happy with my hair staying until we left for the church to make sure that everything was perfect including the veil. I got so many compliments on both my own and the bridesmaids hair the day of my wedding. She was so good that both my friends have subsequently used her for their weddings and they both looked amazing on their big days.
Contact Details
Trim
Meath
Contact name: Denise Bray
Phone: 085 1111 434
[email protected]

Interact