Winter Beauty Must Haves for the Bride-to-Be
By Karen Birney
Right guys, time to get the white flags out, winter is here. Every year I'm dragged kicking and screaming into November, donned in a filthy maxi dress with nothing but an aging cardy to hide my shame (my goosebumps, that is). However this year I've come prepared. I have this weekend earmarked for upgrading my wardrobe (leather elbow patches for cardies, boots heeled, new shiny buttons for old winter coats) and I have already flushed out my make-up bag.
As you are probably well aware, winter brides really need to look after their skin. Chapping is not a good look to sport on your wedding day. But while you need to take care of yourself, you are also on the go almost 24/7 with appointments, work, babies, or parties so you need to have on-the-go skincare, as well as some very transportable quick make-up fixes.
Alas, I present to you my Top 10 Make-up and Beauty Products for Busy Brides this Winter! (Aka 'What-I-will-have-in-my-own-make-up -bag-til-March-possibly-April-next-year')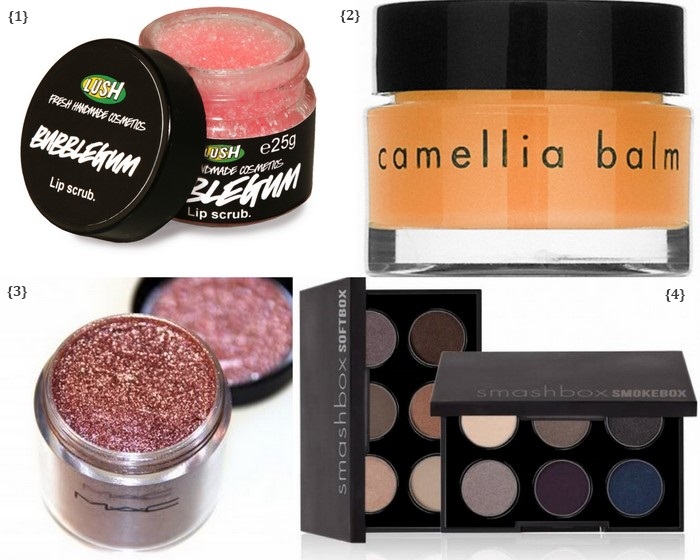 1. Lush Bubblegum Lip Scrub This is like a mini exfoliator for your tender lips, and is great at removing any dry skin from chapping without damaging the delicate skin. Only problem is trying no to eat it.

2. Julie Hewett Camellia Balm in Pink As well as looking pretty and feminine, this lipbalm is a handy 2-in-1. If you find youself with excess on your fingers, rub it into your cuticals to soften and moisturise. Genious.

3. MAC Pigment in Tan This is the most perfect little pot to bring you from the office to your bridal appointments or mini work bridal shower, and gives an instant lift to tired eyes. Just line a scraping under the lower lashes and BAM, you look like a megastar. I've had mine for nearly 5 years, so it's great value too at about €24.

4. Smashbox Smokebox Eye Palette This is my newby, and a very welcome addition to my make-me-look-presentable-after-eight-hours-in-the-office bag. These two are limited editions from Smashbox but if you want to get your hands on them, pop back here on Monday, we have a little suprise for you!

5. Clinique High Impact Curling Mascara My current favourite for va-va-voom mascara. My reason for including this in the winter beauty list is because I get really watery eyes in the cold wind and have found that this mascara doesn't run and sting like some others. That's a winner in my eyes. (badum)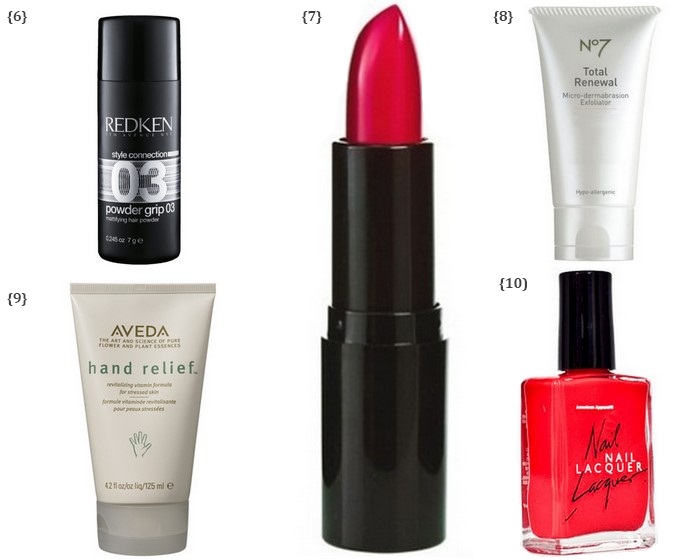 6. Redken Powder Grip 03 Mattifying Hair Powder One word: Amazingness. This is your go-to for on-the-go beauty in hair. No time to shampoo but roots feeling a little on the greasy side? Pepper yourself up and rub in. Also, if you've no room in your clutch for hairspray but can't live without some volume in your hair, Bob's you teapot (darn advertising!)

7. Art Deco Lipstick in Red 03 My staple red lippie. And probably the red that will go well with all skintones. Winner.

8. No7 Total Renewal Microdermabrasion A new skin for about €15, though if yours is sensitive I suggest giving it a miss. For me, it's the best exfoliator I've ever used.

9. Aveda Hand Relief To keep hands well moisturised over the winter, though I suggest using a suncream underneath.

10. American Apparel Nail Lacquer in Red This will be on my nails all winter long, and makes me feel super glam!
So, what's in your make-up bag wishlist for winter? Let us know below!
Related Content