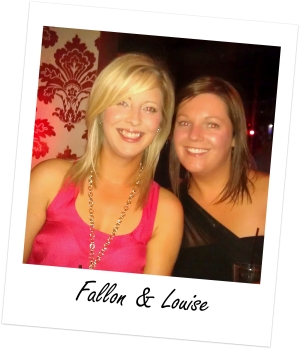 WOL's fabulous bridal blogger Fallon Wasser is getting ready to marry her fiancé Darren Dunne on December 7th, 2012. Fallon is taking us on her wedding planning journey, through the ups and downs, highs and lows and is sharing her wedding planning tips and tricks with us along the way!
I don't know about you ladies, but for me the hardest thing about organising my wedding to date was definitely picking the venue. When I got engaged and started looking at all the different places, I had myself a mini-meltdown! There is just so much choice and it can all be a little over whelming. Luckily for me, I had my friend Louise on hand. She got married last year, so she was in the loop in terms of what a good package should contain and what questions I should ask the hotel. So we sat down one evening over a bottle (or three!) of wine and I must have given her about ten different venues that I liked for various reasons. You see, I love the old country house feel with creaking floorboards and chandeliers but I also wanted the comfort and luxury of a modern hotel. Honestly, I'm really not that fussy, I just wanted everything! We went through the various hotels that I picked and narrowed it down to three, which were all around the Meath area, one of which was Dunboyne Castle. The plan was to make appointments for a single day and Louise and I would go and do a little research on them. If there was any that I liked I would bring himself down and do the hard sell on him.
Winding Staircases
When we arrived at Dunboyne Castle we had a lovely lunch. The food was fab and the service from the staff was really great! The castle felt like the perfect combo of new and old that I was initially looking for and I fell in love with the old house with its beautiful winding staircase and period features. We met with a member of the events team to go through some details and get a proper tour of the hotel. She asked me to fill out some forms and when I looked down at the page Louise's name was down for the bride and my name was down for the groom. She thought that Louise and I were a couple, which we had a good giggle about!
So home I went to convince himself that it was perfect, luckily for me on our return visit the following week he loved it just as much as me and we booked it! I've been back down on a couple of occasions since and have never been disappointed with the level of service. Sinead and the events team have always been extremely helpful with my many questions over the past few months and I know I'm in safe hands.
You're onto a Winner
For any bride and groom out there in venue hell, I would say sit down and write down what's the most important thing to you about the venue and what can't you compromise on. Make sure you look at the package available and price up the extras that aren't included, because it's the hidden extras that will hike up your overall cost. Any decent venue will want to work with you and try and facilitate your big day as much as possible - it's all give and take. The last thing would be to read reviews, there are always going to be people who have had a bad experience at some point but as long as the overall vibe is positive you're onto a winner!
In Fallon's next bridal blog post, she looks for the perfect wedding shoes to help her glide up the aisle and dance the night away!
Related Content: