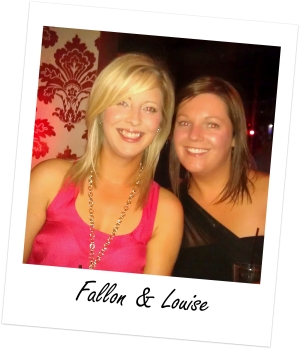 WOL's fabulous bridal blogger Fallon Wasser is getting ready to marry her fiancé Darren Dunne on December 7th, 2012. Fallon is taking us on her wedding planning journey, through the ups and downs, highs and lows and is sharing her wedding planning tips and tricks with us along the way!
I don't know about you ladies, but for me the hardest thing about organising my wedding to date was definitely picking the venue. When I got engaged and started looking at all the different places, I had myself a mini-meltdown! There is just so much choice and it can all be a little over whelming. Luckily for me, I had my friend Louise on hand. She got married last year, so she was in the loop in terms of what a good package should contain and what questions I should ask the hotel. So we sat down one evening over a bottle (or three!) of wine and I must have given her about ten different venues that I liked for various reasons. You see, I love the old country house feel with creaking floorboards and chandeliers but I also wanted the comfort and luxury of a modern hotel. Honestly, I'm really not that fussy, I just wanted everything! We went through the various hotels that I picked and narrowed it down to three, which were all around the Meath area, one of which was Dunboyne Castle. The plan was to make appointments for a single day and Louise and I would go and do a little research on them. If there was any that I liked I would bring himself down and do the hard sell on him.
Winding Staircases
When we arrived at Dunboyne Castle we had a lovely lunch. The food was fab and the service from the staff was really great! The castle felt like the perfect combo of new and old that I was initially looking for and I fell in love with the old house with its beautiful winding staircase and period features. We met with a member of the events team to go through some details and get a proper tour of the hotel. She asked me to fill out some forms and when I looked down at the page Louise's name was down for the bride and my name was down for the groom. She thought that Louise and I were a couple, which we had a good giggle about!
So home I went to convince himself that it was perfect, luckily for me on our return visit the following week he loved it just as much as me and we booked it! I've been back down on a couple of occasions since and have never been disappointed with the level of service. Sinead and the events team have always been extremely helpful with my many questions over the past few months and I know I'm in safe hands.
You're onto a Winner
For any bride and groom out there in venue hell, I would say sit down and write down what's the most important thing to you about the venue and what can't you compromise on. Make sure you look at the package available and price up the extras that aren't included, because it's the hidden extras that will hike up your overall cost. Any decent venue will want to work with you and try and facilitate your big day as much as possible - it's all give and take. The last thing would be to read reviews, there are always going to be people who have had a bad experience at some point but as long as the overall vibe is positive you're onto a winner!
In Fallon's next bridal blog post, she looks for the perfect wedding shoes to help her glide up the aisle and dance the night away!
Related Content: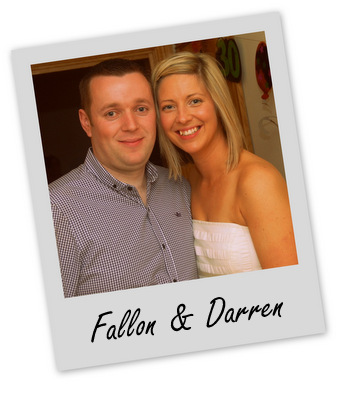 Meet our new bridal blogger, Fallon Wasser, who will marry fiancé Darren Dunne on December 7th, 2012. Fallon will be taking us through the ups and downs of her wedding plans and has promised to share any wedding planning tips and tricks with other brides-to-be along the way!
Fallon and Darren met ten years ago through mutual friends in a night club called Club Diva at the Red Cow Hotel. When Fallon first met Darren she thought he had a great smile and was confident in himself and that he was a bit of a flirt too! When Darren first saw Fallon, he thought she was beautiful, "I knew I wanted to see her again," he told us.
Darren proposed to her on their ten year anniversary. "I came home from work thinking we were just going to have a normal dinner together," said Fallon. "Darren told me to sit down at our kitchen table, then he popped into the other room and came back with a beautiful bunch of red roses. I thought it was just an anniversary gift until I looked at the card which said 'Will you marry me?' on it. To say I was shocked was an understatement. He had told family and friends that he was going to propose and they were all standing by for the party."
'The One' - Fallon's First Post
The one makes you go weak at the knees, can bring tears to your eyes and can make you feel like the most beautiful woman on earth. I'm not talking about himself, I mean the frock, the guna, your wedding dress. When you know it's the one you just know, isn't that what people say? It's such a bazarre thing because I have heard friends talk about just knowing and I always thought 'yeah right' until I had my own experience in The White Room in Mullingar. Let me fill you in.

Last November, off I trotted to The White Room. This was a full year in advance of my wedding but my objective at the time was to try on as many different shapes and types so I could narrow it down to a certain style of dress. That was when the real search would ensue, or so I thought.

Before I get into the dress-trying-on part, I'd like to say how important it is to have the right people with you for this experience. I personally wanted to keep it to one or two people. You don't want too many different opinions being thrown at you. So my Mam was an obvious choice. Now my Mam, bless her, would have told me on the day that I looked great in a white plastic bag. The emotion of it all really got to her seeing her only child in a wedding dress. She's not the most critical person in the world so I knew I needed to have someone who has similar tastes to mine and who, more importantly, would tell me straight out if I looked like a sack of potatoes, so I asked my cousin Tamlyn, who had recommended The White Room, to come along also.
A Little Girl's Dream

When we arrived for our appointment we were greeted and brought upstairs to our own private fitting rooms, complete with dressing area, a seating area for those accompanying you, full length mirrors and a box thingy to stand on that you see in the movies. The woman in the shop told me to go through the many, many racks of dresses and pull out as many as I wanted. She advised me to try all the different styles, not just what I thought I wanted and that's exactly what I did. Ballroom, fishtail, 1920s, lace, no lace, fitted, sleeves, no sleeves - you get the idea. Each time I changed a dress, my little dresser friend was there to help me in and out and pin me together. I cannot rave enough about the level of customer service that I experienced in The White Room and the quality of the dresses. I can only imagine how many times they get tried on but they were all immaculate and the show room itself was like a little girl's dream, rows and rows of dresses, a veil section, jewellery, shoes and an area holding an assortment of boleros etc. Amazing!

It is so surreal putting on a wedding dress for the first time, whether you like the dress or not, seeing yourself in head-to-toe wedding get-up is just mad. I tried on around 10-12 dresses and after the first few, I knew that a fitted dress was going to work best for me. I then put on the last dress that Tamlyn had picked up as a "sure ya might as well try it" type thing. So there I stood in my little curtained off dressing area with my little dresser friend standing behind me closing me up and literally as she did so I started to well up. Yes, I actually had myself a little moment! I was in love, I'd met 'The One'. I stepped out from behind the curtain to show my mam and Tamlyn and then they had a moment, we were all a little glassy-eyed. I'd like to think my little dresser friend had a moment too. She popped a veil on and told me to stand on the box thingy and well, it was game over. I was sold. A couple of days later I paid the deposit and haven't been inside another bridal shop since.

I can never understand other brides-to-be when they say they have seen a dress that they love but are going to keep looking just in case. Let me tell you this; if you're still looking, it's not the one. Stop stringing yourself and the dress along and end it. Window shopping is okay, we all want to know what's out there, but trying on others behind your dresses back, well that's just not right! Occasionally I go onto the designer website just to have a look at her and each time I get a little flutter in the pit of my stomach that tells me "yes she's still the one".
Fallon will have a regular WeddingsOnline blog spot, feel free to leave a comment for Fallon here, or chat to her in the WeddingsOnline Forums!
WOL Content: